The 52/74 Water Users' Association (WUA) has called out the Region Six (East Berbice-Corentyne) administration for its lack of ability to maintain the drainage and irrigation system.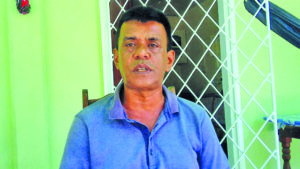 According to the WUA, poor maintenance could cost rice farmers large sums.
Chairman Nezam Rajab of the WUA said that one of the main areas of concern is the Excess Canal, which rice farmers in recent time have been complaining is in need of proper maintenance.
The excess canal which is responsible for draining both the residential and farming area was cleaned in May after Television Guyana (TVG) Evening News aired a story showing that the canal which runs in the residential area between Number 62 and 63 Villages was covered with vegetation.
The excess canal runs from Number 57 to 61 Villages and provides drainage for more than 1000 homes. In addition to that, a further 1200 homes on the opposite side, also depend on the canal for drainage between Number 52 and 66 Village.
More importantly, the canal drains 9000 acres of rice land between Number 52 and 66 Village.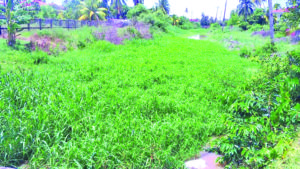 Following the cleaning of the canal in May it has become blocked again.
Rajab told this publication that farmers may be in danger of losing their crop, while pointing an accusing finger at the Regional Democratic Council which has spent millions of dollars to clean the canal but has not put any system in place to ensure that it stays that way.
"The canal is silted again and I called the Regional Chairman and asked him about manual maintenance and he told me that he is not too much involved in it; the REO [Regional Executive Officer] is responsible and she would just pass the contract to whoever she wants. Some of these people don't even know where the canal is and they give them the contract and most times the people never show up don't show up to clean the canal," the WUA Chairman told this newspaper.
Meanwhile, Regional Chairman David Armogan in a comment on the issue said that he has since requested for the REO to withdraw the contract that was given out for manual maintenance of the excess canal.
However, the WUA Chairman, Rajab said his fear is the lengthy time it might take to get another contractor that will be willing to do the work at the same price now that it is clogged.
Despite the canal being clogged, farmers between Number 52 and 66 Village did not experience flooding even though the May-June rains continue into July. The canal only serves drainage purposes.
Even though Guyana is almost at the end of what has been an extended May-June rainy season and the excess canal is for drainage, Rajab said when the rain stops the farmers will have a greater need for drainage.
"In another three to four weeks all farmers will be releasing water from their rice fields because it will be bearing season so they will have to release it. That is the fear; if they don't have manual maintenance, they might have to spend millions to put in a machine to pump water out," Rajab explained. (Andrew Carmichael)