Guyanese Amateur Boxing Referee/Judge Elton Chase recently made history for the fraternity when he became the first International Technical Officer (ITO) to emerge from its ranks.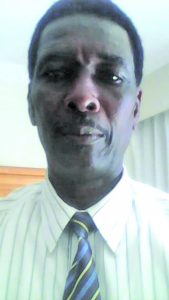 This is the direct result of Chase's success at the ITO examination which was sat in May of this year and was facilitated in St. Lucia.
The Guyana Amateur Boxing Association (GABA) received this week from the Amateur International Boxing Association (AIBA) the news of Chase's elevation; and it has been highlighted that Chase is the first Guyanese to have recorded such an achievement.
GABA President Steve Ninvalle has applauded Chase's success, claiming it as another pillar in the development of amateur boxing in Guyana.
"Boxing and Guyana must be proud of his(Chase's) recent achievement. Mr. Chase remains one of our most dependable officials, and ascension to the rank of ITO clearly speaks to his tenacity for personal development and that of the sport," Ninvalle said.
Extending to Chase the best wishes of himself and the GABA, Ninvalle has also expressed hope that other officials would follow suit.
"Obviously, the hope is that others would follow in his footsteps. On behalf of the executives of the GABA, I take this opportunity to heap congratulations on Guyana's first ITO," he said.
An elated Chase had gratitude of his own to express to those who were instrumental in his achievement.
"I feel very honoured to have successfully completed this course. The long hours of work (have been) rewarded. That being said, I must thank God; Mr. Ninvalle of GABA; the St. Lucia Boxing Association and its President, Mr. Shakes; and all those who participated in the course, for their contributions to this success story," he said.
Chase has made known his intention to play a role in the development of boxing in Guyana.
"I anticipate contributing to the advancement of amateur boxing in Guyana, the Caribbean and internationally," he said.