Two men have been caught on camera jumping into the yard of a Bush Lot, West Coast Berbice, Region Five (Mahaica-Berbice) resident and vandalising his car.
The incident occurred at about 1:45h on Saturday.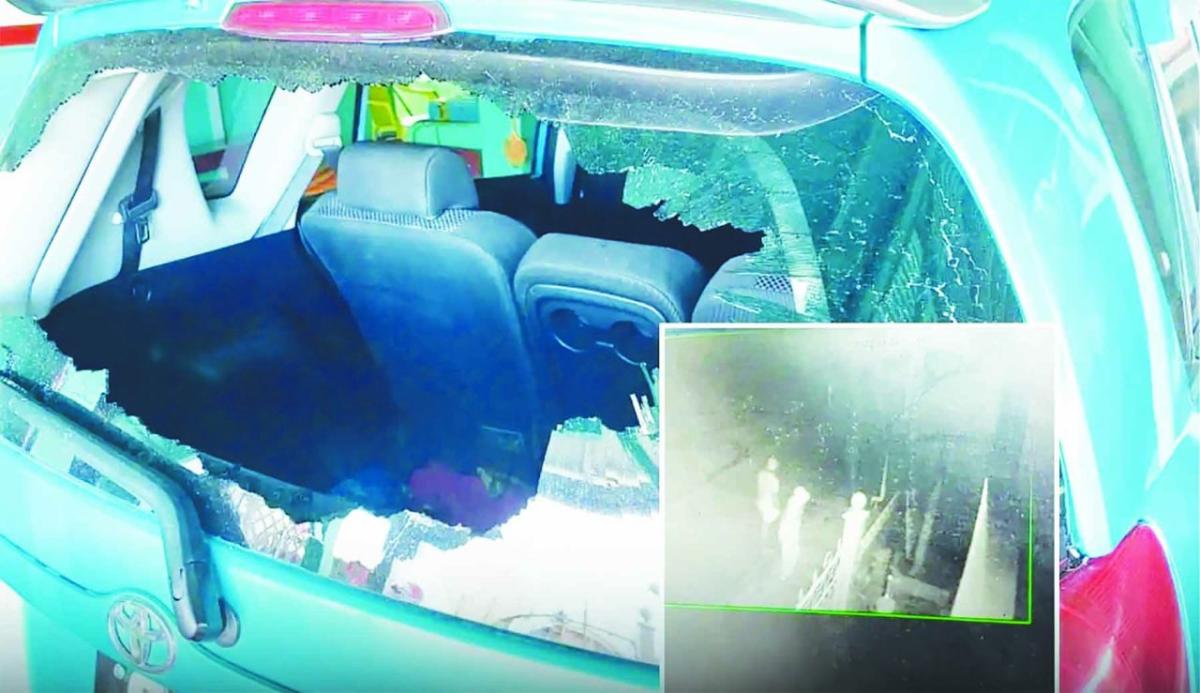 Lakeram Persaud, 61, said it was the first time such an incident occurred at his residence. The man said he has been living at that location all his life.
"We hear the big explosion from upstairs and when we come out, we see what happen," the resident related to this publication.
Both the front and back windscreens along with the front lights of his car were shattered.
Persaud believes that the men were hired and were acting upon the instructions of one of his neighbours.
He explained that he had three concrete blocks on his bridge to prevent persons from parking in his driveway, adding that customers to the next-door business place would block his entrance, forcing him to have to wait long periods to get in and out of his yard.
"I went to the Regional Chairman and complain and the Regional Chairman asked me to make them (the blocks) and put them there so when I am ready to come in and go out, I must get access."
"I have a truck and a car and sometimes when the truck come, the driver would have to wait for hours on the road for people to move their vehicles."
The blocks had been there for the past four years. Recently, however, the neighbour reportedly removed them so that his customers can get parking.
"He just come and pull them and throw them in the drain."
Persaud said he reported the matter to the Police and was not satisfied with the response and subsequently telephoned the Deputy Commander who, he said, told him that the Police can do nothing about the issue.
Meanwhile, about five years ago, another villager who reportedly had a misunderstanding with the same neighbour, was awakened by a loud explosion. On that occasion, Molotov cocktails were reportedly hurled at the villager's house, resulting in a small fire igniting. However, the fire was put out without serious damage to the building.
On June 16, 2011, another of Persaud's neighbours had his vehicle set on fire. Mike Persaud of Lot 54 Section C Bush Lot, a contractor and Chairman of the Bush Lot Community Policing Group (CPG), related "there was an issue with a neighbour where his customer's vehicles would come and park on my driveway, blocking it. I complained about it twice and I was told to go and do what [I] want to do, including contacting the Police."
According to the contractor, there was another incident where his neighbour was playing loud music. He subsequently contacted the Police who responded and ensured that the music was turned off.
"Two weeks after that, I was awoken by a loud bang, the barking of the neighbour's dogs and after that, there was an explosion. Luckily, I was awake and when I went outside, there were two guys running from the yard. I have a pick-up truck that was in the flames – the whole thing was engulfed in flames," the man related.
That matter is still being investigated.
Meanwhile, 61-year-old Lakeram Persaud said he is scared.
"Now I am afraid. Just how they jump and come in, they can come and kill us," Persaud expressed, referring to himself and his wife.
Telephone calls to the Regional Commander's mobile phone went unanswered.