…as Salvation Army launches annual Christmas Kettle Appeal
President Dr Irfaan Ali on Friday declared open the traditional Salvation Army Christmas Kettle Appeal at Roraima Duke Lodge, as the festive seasons gets underway.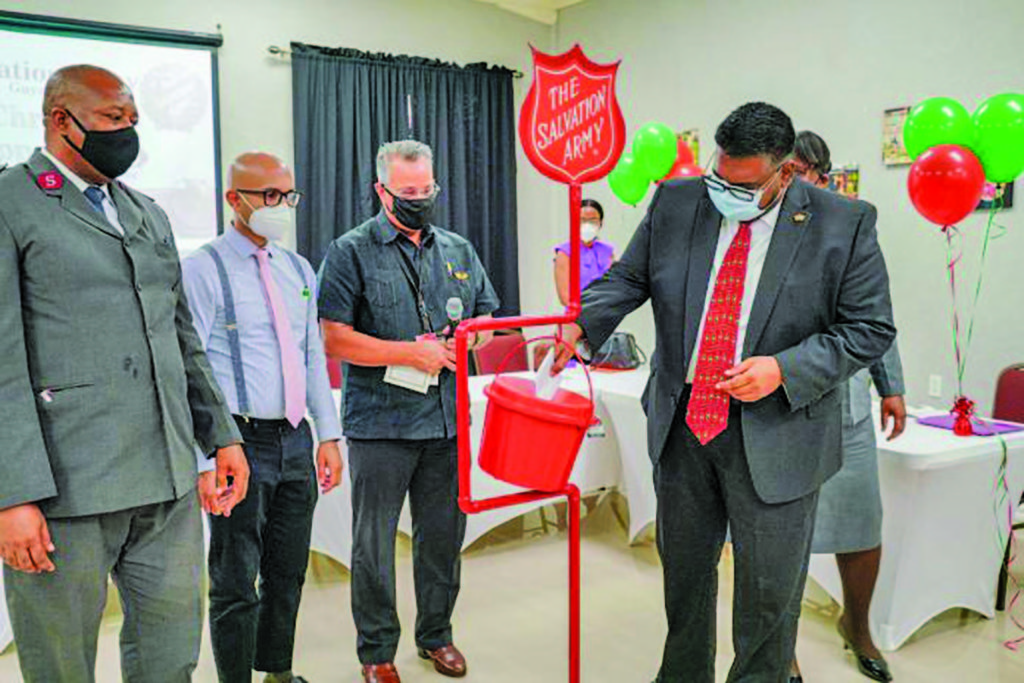 "I now declare this kettle open, the kettle of hope, the kettle of mercy," President Ali said as he made the first deposit into the Salvation Army's annual Christmas Kettle Appeal.
The President acknowledged the tremendous work being done by the Salvation Army in assisting the less fortunate. He added that the programmes offered by the Army need to be decentralised.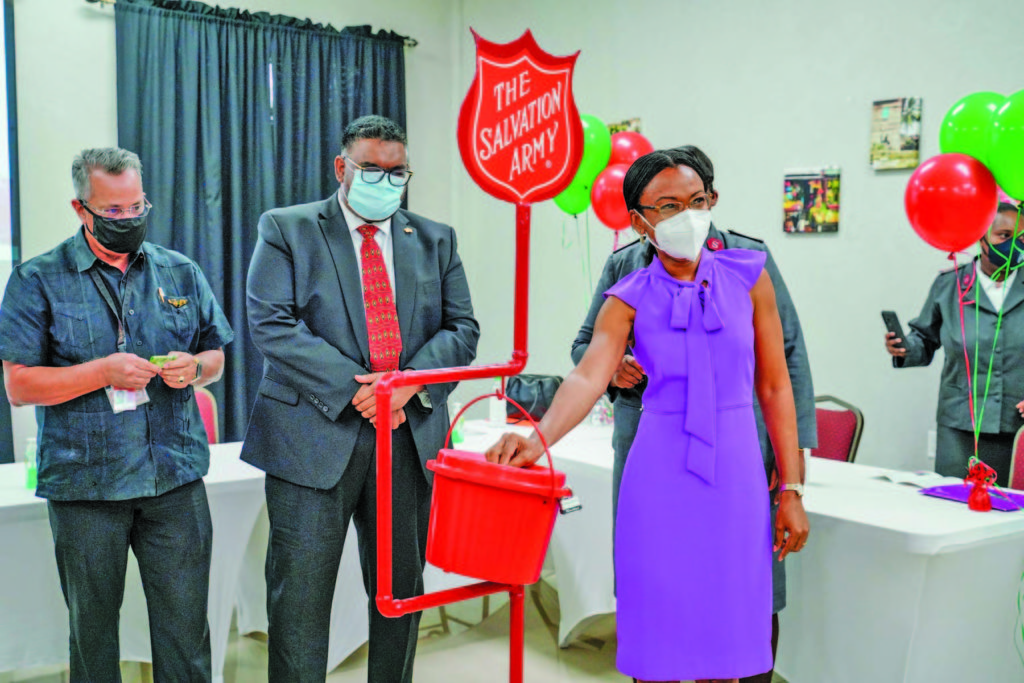 "These types of programmes also need to be decentralised and to go into communities and areas that we are seeing a new wave of abuse of substance; and you have a Government who is ready and willing to partner with you,"
the Head-of-State said.
He explained that generosity and kindness are essential aspects of human development, and are attributes to any developing country.
"But the problem is (that)the season, in my view, is just a reminder that we have it in us to give; but outside of the season, we also have a responsibility. Our love should not be seasonal; our commitment should not be seasonal; our kindness should not be seasonal; otherwise, our ability to help each other will be seasonal, and that is not what we want to achieve."
Meanwhile, Tourism, Industry, and Commerce Minister Oneidge Walrond commended the Salvation Army for their commitment to supporting the less fortunate, and the fact that they have been doing it for 125 years.
"The work you do is an inspiration to me. The fact that you provide up to 400 meals each day, and meet the basic needs of citizens, including the elderly and children, is noteworthy," Minister Walrond posited, while recognising the organization's donations to nursing homes.
She added, "Your labour echoes humility and love for our fellow men, and these are attributes that all Guyanese should exemplify."
Recognising that the Christmas season is about love, Minister Waldron said, "Too often, we get so consumed with the cares of life that we forget to show love. Love is a foundational principle in most religions because it is so critical to our survival."
Further, she mentioned that people from all walks of life could enter the Salvation Army Rehabilitation Programme and get a second chance at life.
"Just on a personal note, I was a Magistrate for seven years, and I had many young (people) come before me. In fact, I sat on the Juvenile Court for most of those years, and the Salvation Army Drug Rehabilitation Programme, I can testify, saved many young persons' lives."
Consequently, she joined the call with the Head-of-State to have the programme expanded within different communities throughout the length and breadth of Guyana.
Officers of the Salvation Army will be stationed at strategic locations near popular stores and businesses as they solicit donations from the general public to fund their charitable programmes.
Government provides a subvention for the organisation's drug rehabilitation programme, but it is dependent on the goodwill of the general public to support its various initiatives. (G1)