The Guyana Marine Conservation Society (GMCS) on Wednesday launched its 5-Year Strategy Plan that would cover from 2022-2027 with a focus on expanding its efforts to support effective conservation and management of ocean biodiversity and promote the growth of a sustainable blue economy.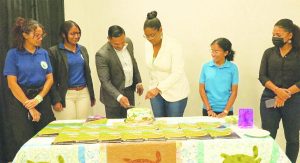 The 5-Year Strategic Plan will entail further research and monitoring to improve knowledge of Guyana's marine and coastal ecosystem; promote education and awareness, that is intended to foster a greater appreciation of the values and threats to Guyana's ecosystem; facilitate community development, that will empower coastal communities for increased resilience to climate change and other hazards; and strengthen its capacity as it relates to marine conservation and the sustainable development of the blue economy.
As the country's economy continues to accelerate as a result of its oil wealth, the Government has moved to update the Low Carbon Development Strategy (LCDS) to include new sectors, such as the blue economy.
Recognising this movement, the GMCS has also aligned its 5-Year Strategic Plan with the LCDS 2030.
Delivering remarks at the launch, Natural Resources Minister Vickram Baharrat commended the GMCS for all it has done thus far in protecting and conserving Guyana's biodiversity.
"I think they deserve the commendation and the recognition for the role that they have been playing in ensuring that our marine life and our environment in general is protected and is given the kind of focus that is deserved," the Minister said.
Referencing the LCDS 2030, the Minister noted that the Government is playing its part in conserving Guyana's biodiversity.
"We want a good life for ourselves and our children; we want the kind of facilities that developed countries have too; we want the type of healthcare, education, the infrastructure that others in the First World are enjoying too; but the only way we can achieve that besides from having a responsible Government is to ensure that we continue to produce from our natural resources. But, mind you, in a sustainable and responsible manner, and that is what the LCDS 2030 speaks to," he explained.
"A lot of people are under the impression that the LCDS will stop mining, will top logging, but that is not true. It speaks to sustainable mining and logging; it speaks towards us moving to value-added, that is what we're gearing the forestry sector towards," Minister Bharrat added.
Meanwhile, Shyam Nokta, the Managing Director of Environmental Management Consultants Inc. – a key player in this sector –highlighted the importance of the work and goals pursued by the GMCS.
"With the strategic plan that the Guyana Marine Conservation Society has put forward, those critical elements remain prominent research data collection. So, much of what we need to do in the marine space requires us to have data to be able analyse, to be able to make sound decisions.
"We are playing catch up in many respects here, but it's never too late. But it's really that this is a key element of what the organization is going to focus (on), and already there is work happening there," Nokta stated.