Guyana has been dubbed an investment destination with the flurry of developments taking place, and businesses now have a gateway to access foreign investors through the Investment Portal of the Georgetown Chamber of Commerce and Industry (GCCI).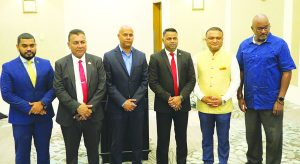 The GCCI on Thursday launched the Investment Portal, which is now available to its membership. It is geared at improving Private Sector development, through new partnerships and expansion of services offered by local enterprises.
GCCI President Timothy Tucker said the portal was a brainchild of the organisation that would revolutionise its operations. Potential investors will no longer have difficulties identifying opportunities to invest.
"Generally, somebody coming into Guyana does not know the landscape and what exactly is going on in the country. You may have members of the GCCI that have very grand ideas or have a business that really needs that investor. What this portal is meant to do is to bring those two together," Tucker outlined.
He noted that the Local Content legislation has made possible the opportunity to find overseas partners, which was taken into account with the creation of the portal.
"What we have is the opportunity to create that partnership…Our membership is legitimate businesses. Those legitimate businesses can use our GCCI portal to upload their business ideas…It's really the opportunity to not only look for financial assistance, but also looking at connecting businesses. You can have similar businesses looking for a partnership to boost themselves," Tucker explained.
The portal has a simple registration process and easy-to-use interface. The portal also enables businesses to upload a brief overview of their missions, goals, and objectives and the investors will also be able to register and assess start-up listings for possible investment opportunities.
To get involved in this network, businesses can easily register to become a member of the Chamber, where a vetting process will follow. Legitimate members can use the interface, via which they can upload their business proposals and objectives. The GCCI will be using its linkages with delegations; Memorandums of Understanding (MoU) partners, and other collaborating stakeholders to provide the connections.
GO-Invest Chief Executive Officer, Dr Peter Ramsaroop noted that Guyana would keep expanding, thus creating the environment for new ventures and partnerships. As the transformative agenda moves apace, businesses will need to match the agenda of the country.
Dr Ramsaroop relayed, "Local businesses putting this information in the portal makes it so much easier to push for the consortium, joint ventures, and various partnerships…In Government, we try not to recommend any businesses, because it is not our job to validate. It's easier now to push it all to the Chambers. The transformative agenda is rapidly expanding.
"The Local Content [Act] has changed the outlook of Guyana…We have changed the mindset and thinking of foreign investors. In 2021, of the national investment projects that we approved, over 60 per cent was local Guyanese businesses. That was probably the best number we could have had."
Meanwhile, the Minister within the Public Works Ministry, Deodat Indar has called for stakeholders to market this portal at every opportunity.
"The populating of this portal by the locals as well as persons coming in is key to give you indications of where people want to go. Not everything is oil and gas. The construction sector is kicking up. Mining is kicking up. Agriculture is a big driver of our government," the Minister postulated.