…to establish working group by June 7 to examine, make recommendations to implement areas of cooperation
The Governments of Guyana and Antigua and Barbuda on Friday signed a Memorandum of Understanding (MoU), providing for economic cooperation in eight areas, including tourism, financial services, agriculture, air transportation and energy.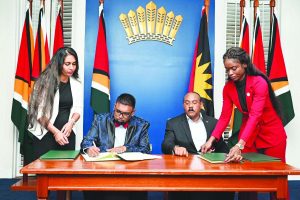 The Memorandum was signed at State House, Main Street, Georgetown, by Guyana's President Irfaan Ali and Antigua and Barbuda's Prime Minister, Gaston Browne.
The two leaders observed that the memorandum is another step in the many collaborative efforts in which Antigua and Barbuda and Guyana have been involved since the Governments of the two countries, along with Barbados, launched the Caribbean Free Trade Agreement at Dickenson Bay in Antigua in 1965.
Recalling that Antigua and Barbuda has been home to a significant number of the Guyanese diaspora for decades, President Ali remarked that there is every basis for the strengthening of economic relations between the two countries, bringing benefits to their people.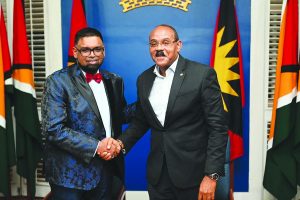 "This agreement will open opportunities for the private sectors of both countries in several sectors, including tourism in which Antigua and Barbuda is regarded as a world leader," Prime Minister Browne said. He added that financial institutions will also be able to cooperate in expanding the range of services offered to their clients.
On regional air transportation, President Ali noted that transportation was identified by Caricom Heads of Government, who attended the Agri-Invest Forum in Guyana this week as "an important factor in achieving food security in the Caribbean".
"Therefore, we will closely examine the possibility of collaborating with Antigua and Barbuda in the provision of air transportation as an important element in moving produce from Guyana to other parts of the region."
The two leaders will establish a working group by June 7, 2022, with a mandate to examine and make recommendations on ways to implement the areas of cooperation as early as possible.
Only on Thursday, President Ali pointed toward support from the private sector in dealing with challenges confronting the agricultural sector. These extend to financing, logistics, transport, improving agro-processing, and linking markets.
He highlighted reports which signalled severe food insecurity increasing by 72 per cent within the last year. Moreover, the costs of key commodities are positioned to rise even further in coming years. By 2022, wheat prices are projected to increase by 40 per cent. Global use of cereal, wheat, corn and soya would increase to three million tonnes by 2030, of which developing countries would account for 90 per cent.
Current inflated costs for food products have been driven by a 100 per cent increase in fertilisers. Caricom has also reported a 17.1 per cent increase in transport expenditure linked to higher charter rates.
In light of this, Ali commented, "The challenge for developing countries and us in Caricom is not only the rise in prices, but the supply. As the vaccination war taught us, our position in the line is definitely not in front."
The Guyanese Head of State related that the overarching strategy of leaders should be aimed at streamlining procedures for exports and imports; a time commitment for the removal of barriers; developing a precarious system for the export of goods, so as to reduce bureaucracy and spoilage; standardisation of certification process; technical support in developing business proposals for farmers; incentivised agricultural lands for financial institutions; greater involvement of youth and women in the production chain, among other things.