– Cemetery among places searched for prison escapees
In light of the disturbances that were created by unruly prisoners who were transferred from the Lusignan Prison walled area, Public Security Minister Khemraj Ramjattan announced on Tuesday that law enforcement ranks would be stationed 24 hours inside and outside the Camp Street Prison.
When Guyana Times arrived at the Camp Street Prison earlier in the day, Police confirmed that security had been heightened as a result of the "behaviour" of the transferred hard-core criminals. The Public Security Minister confirmed reports of prisoners pounding on the walls and shouting. He stressed that security has been heightened in an effort to prevent a repeat of the Lusignan Prison break.
"Security has been heightened because as I said these are the real bad guys and they did a number of activities that caused the decision to be made that security must be fortified," the Public Security Minister stressed.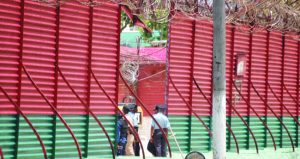 Moreover, the Minister noted that the prisoners had been sanitised before being placed in the brick building located in the Camp Street Prison compound.
"They don't have cellphones. They don't have a number of the things that they had. They were sanitised [Tuesday] morning before they went into the prison…so it is important that we understand that. They were sanitised at Lusignan and then re-sanitised back at the prison [Camp Street]. So they are without all of the instruments and cellphones and other things that they had before," the Minister noted.
The relocation of the prisoners was fast-tracked following the second prison break in the space of one month which saw the escape of 13 inmates who fled through a hole from the Lusignan Prison between Sunday night and Monday morning. The manhunt is still ongoing for the remaining six still eluding recapture in addition to the four who initially escaped from lawful custody on July 9 after staging an attack on correctional officers at the Camp Street Prison and setting the penitentiary alight.
Late on Tuesday, Police, including the SWAT team, were deployed to the Le Repentir Cemetery, in Georgetown, as it was believed that escapees armed with guns were hiding out in the area. Up to press time, the search came up empty.
The escapees at large are: Clive Forde, Shawn Harris, Kerry Cromwell, Pascal Smith, Kendall Skeet, Paul Goriah, Mark Royden Durant, Uree Varswyck, Stafrei Hopkinson Alexander, and Cobena Stephens.