Director General of the World Health Organisation, Dr Tedros Adhanom has transmitted the report from the 14th meeting of the International Health Regulations Emergency Committee regarding the coronavirus disease, where recommendations for vaccination coverage and surveillance have been issued to state parties.
Calls for improved reporting of SARS-CoV-2 surveillance data to the WHO were requested. It was shared that better data are needed to detect, assess, and monitor emerging variants; identify significant changes to COVID-19 epidemiology; and understand the burden of COVID-19 in all regions.
"States Parties are recommended to use an integrated approach to respiratory infectious disease surveillance that leverages the Global Influenza Surveillance and Response system. Surveillance should incorporate information from representative sentinel populations, event-based surveillance, human wastewater surveillance, sero-surveillance, and animal-human-environmental surveillance."
WHO said continued work should continue with member states to ensure adequate capacity and coverage of COVID-19 surveillance are in place to recognise quickly, any significant changes in the virus and/or its epidemiology and clinical impact including hospitalisation, so that appropriate global alerting can be triggered.
Among the temporary recommendations is to maintain momentum for COVID-19 vaccination in order to achieve 100 per cent coverage of high-priority groups guided by the evolving SAGE recommendations on the use of booster doses.
"States Parties should plan for integration of COVID-19 vaccination into part of life-course immunisation programmes. Regular data collection and reporting on vaccine coverage should include both primary and booster doses," the Director noted.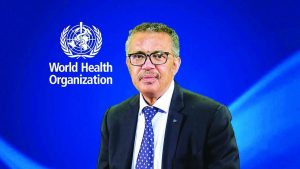 It noted that state parties should enhance access to COVID-19 vaccines, diagnostics and therapeutics, and consider preparing for these medical countermeasures to be authorised outside of  Emergency Use Listing procedures and within normal national regulatory frameworks.
Countries should also consider "how to strengthen country readiness to respond to outbreaks including attention to health workforce capacity, infection prevention and control, and financing for respiratory and non-respiratory pathogen preparedness and response".
On the local level, continued work with communities and their leaders to address the infodemic and to effectively implement risk-based public health and social measures (PHSM) was recommended.
"Risk communication and community engagement should be adapted to local contexts and tackle mis- and dis-information that erodes trust in medical countermeasures and PHSM. States Parties should strengthen the public, media, and communities understanding of the evolving science to encourage evidence-informed action and policies. States Parties should continue to monitor individual and public response to the implementation of PHSM and the uptake and acceptability of COVID-19 vaccines, and implement measures, including communication strategies, to support appropriate utilisation."
Moreover, continuing to adjust any remaining international travel-related measures, based on risk assessment, and not requiring proof of vaccination against COVID-19 as a prerequisite for international travel was requested. Countries were also asked to support research for improved vaccines that reduce transmission and have broad applicability, as well as research to understand the full spectrum, incidence, and impact of post-COVID-19 conditions, and to develop relevant integrated care pathways.