While acknowledging that there is a willingness by authorities here to tackle the illegal narcotics trade, newly-appointed US Ambassador to Guyana, Sarah-Ann Lynch believes that the lack of capacity by local law enforcement agencies is hindering efforts to dent the global societal scourge that has been plaguing the country.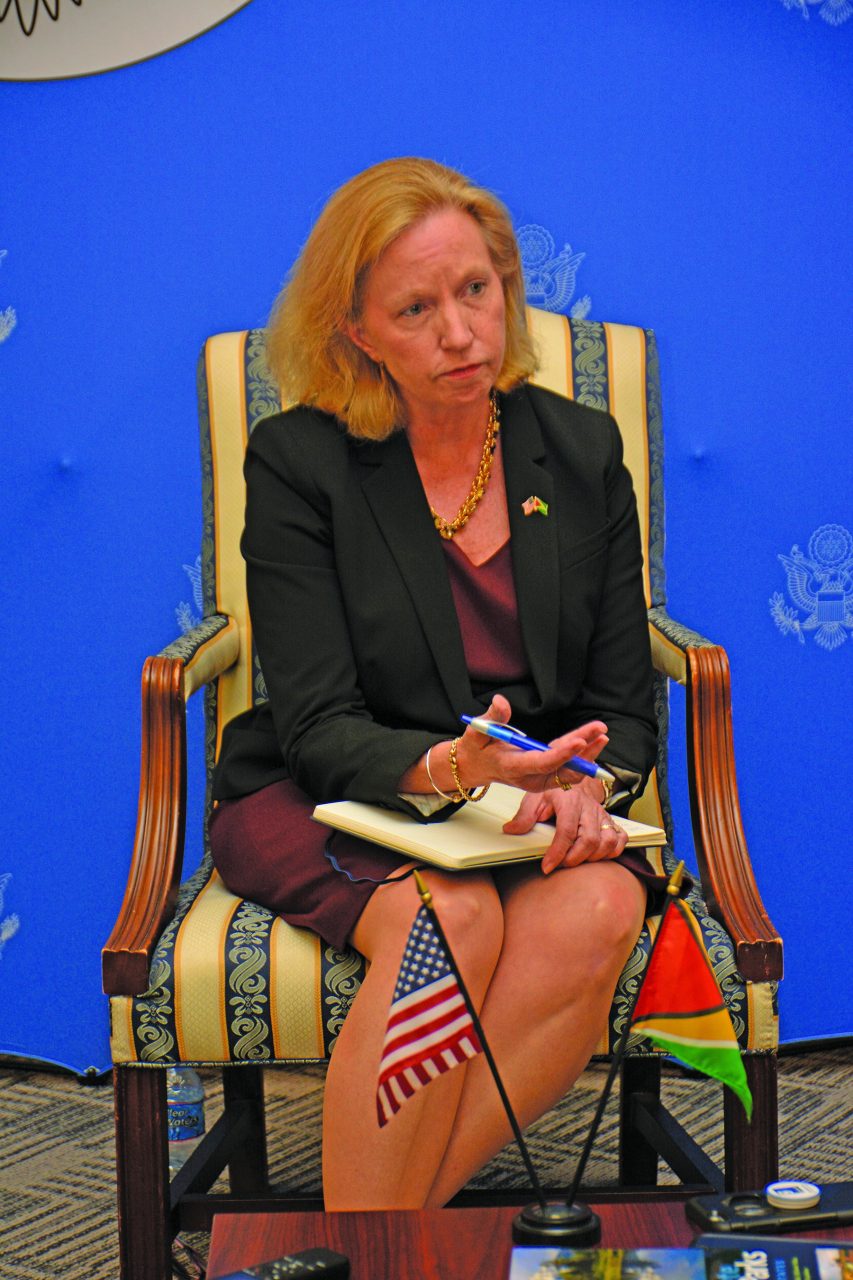 "When you look at Guyana, what you see [is] great commitment but lack of capacity. And to achieve full success, you need to have both at a very high level. So that is where the US is coming in and helping on that capacity side, helping to build on the great gains that have already been made but it is a struggle. It's a constant struggle. We have seen it throughout the region," Ambassador Lynch told a group of journalists during her first official interview since arriving in the country last month.
According to the US diplomat, this is not an issue limited to Guyana. In fact, Ambassador Lynch said that in her previous postings she had worked with many countries in the Latin American and Caribbean region to tackle the narcotics trade.
"[This] is a regional issue and cooperation among the South American and Caribbean actors, together with the US will help us all to achieve a more stable and secure region. We are, after all, in the same neighbourhood and I think we all have the same goals of security and stability," she asserted.
Transhipment point
Being positioned on the South American continent with strong ties to the Caribbean region, Guyana has long been identified as a transhipment point for major drug trafficking activities. It was against this backdrop that the US established an office of its Drug Enforcement Agency (DEA) here back in February 2016.
According to the new US envoy, this has resulted in excellent bilateral cooperation over the years in curbing the illegal drug trade. She noted that the DEA's role here has been focused largely on the training and capacity-building side as well as providing equipment to local law enforcement agencies with the provision of training on the usage of that equipment.
Ambassador Lynch posited that last year there was a record number of kilos of cocaine discovered within Guyana's borders and this was as a direct result of the "excellent cooperation" as a result of which the Guyanese military and Police Force have benefited.
The US State Department, in its 2018 report, recently cited crime, among other things, being a barrier to investment and undermining development. Commenting on this, the US Diplomat pointed out that the report did recognise that there is tremendous political will in Guyana to advance on these efforts to tackle the drug trade.
"It is a tough battle for sure… [But] I just want to point that out that there has been great political will to make a lot of progress and we hope that continues under any Guyanese Administration, that they build on the progress and grow," she asserted.
Ambassador Lynch's predecessor, Perry Holloway, was instrumental in setting up the DEA office here, which was done less than five months after his arrival in Guyana. During an interview prior to his departure back in December after a three-year tenure, Ambassador Holloway had said it was too early to gauge the success of the DEA here but noted that more positive results can be expected in the coming years.
"…The investigation of narcotics crime and the related crime of money laundering, these investigations take years and not weeks or months. So if you're going to bring down an organisation or a kingpin type person, you don't do that in a week or two weeks.
The DEA, I think, has done a great job in here, they are not policemen, there are liaison, they are here to share information, develop information, talk to people… Now after three years with the DEA here, we are beginning to develop some stuff. But I think in the next two or three years, you are going to see a lot more positive actions coming from your law enforcement entities and them cooperating with international law enforcement," the US Diplomat stated.
One such development that the former Ambassador spoke about is the arrest of Guyanese hotelier, Shervington "Big Head" Lovell, who was arrested in Jamaica late last year for narcotics trafficking and recently extradited to the US where he faced additional charges.
According to reports, Lovell, who is the owner of Hotel Tower on Main Street, Georgetown, was arraigned before a magistrate in a New York court and pleaded not guilty to conspiracy to violate Maritime Drug Enforcement Law.
Nevertheless, former Ambassador Holloway pointed out that he has not seen any evidence to show that transhipment has gotten worst during the three years he has been in Guyana. However, he pointed out that the fight against this scourge of narco-trafficking has not ended.
"It is illegal so they don't tell you how much is shipping through or not shipping through… [But] there is still drugs shipping through Guyana, there is drugs shipping through every country in South America. So Guyana is not alone in being a transhipment point," he had noted.
However, he too recognised the limitations of local law enforcement agencies given the lack of resources.
Asked by Guyana Times whether the DEA office has been able to tap into the drug network that it suspected was here, Holloway had explained that while they knew of certain individuals and organisations operating in Guyana, this is hard to prove.
"[But] by coming here, we gathered a lot more information on those organisations and individuals. We have been working closely and can actually share information that we have with the police and CANU. I think the next three years you are going to see a little bit of an acceleration of activity. Not because people were not working hard, but eventually this information reached a point where all of a sudden, it can be tied together and something can be done," the former Ambassador had stated.