–With current 95 % treatment rate, 98% in 2017
By Utamu Belle 
With a present 95 percent curability rate in the treatment of tuberculosis (TB), the Linden Chest Clinic, situated within the Upper Demerara Hospital (UDH) in Linden, Region 10 (Upper Demerara-Berbice) has earned its place as the leading public treatment Centre for the infection/ disease amongst the 10 administrative Regions of Guyana.
This is according to statistics from the Pan American Health Organization (PAHO)/ World Health Organization (WHO) and Global Fund Guyana.
TB, an airborne infection/disease is caused by the Mycobacterium tuberculosis which usually attacks the lungs but can cause damage to other parts of the body as well. It can be spread for example, through the cough or sneeze of an infected person.
Some symptoms of the disease include coughing blood, prolonged coughing which may last for three weeks or more, painful breathing or chest pain, fever and night sweats, weight loss, fatigue and chills.
In Region 10, the Linden Chest Clinic has the sole responsibility of providing treatment and care to TB patients across the Region and has over the years been a leader in this regard. In 2017, the Clinic recorded an exemplary 98 per cent TB treatment rate.
In a public message on World TB Day 2019, which was observed on March 24, Minister within the Ministry of Public Health, Dr Karen Cummings alluded that according to the 2018 cohort analysis conducted, the Region has the best treatment success, with over 90 per cent of patients successfully completing their treatment.
The Minister added that the Region has been outstanding in caring for TB patients over the years, with a stable and very dedicated team of public health professionals. The TB outreach workers and the main Doctor, she noted, were able to build partnerships with other health care providers in the Region and have them involved in Direct Observed Treatment Short course (DOTS), which is the internationally recognized efficient strategy for the control of the disease.
This year, World TB Day was observed under the theme, "It's time for Action- End TB".
Speaking with this Sunday Times Magazine, Registered Nursing Assistant attached to the Linden Chest Clinic, Thesia King Thompson, who has worked at the treatment Centre for the past 10 years noted that its team of professionals are very committed to working to put an end to TB in Region 10.
Apart from Thompson, other members of the team attached to the Clinic include Dr Roscoe McDonald, Doctors Ashonda Washington and Natasha Barton, Nurse Gracelyn Gittens along with DOTS workers Shamaine Moore, Uloma Haynes, Vanessa Webster and Avay Fraser.
Presently the clinic has 12 active TB cases, of which only one is Human Immunodeficiency Virus (HIV) positive and 40 Isoniazid Preventative Therapy (IPT) patients (for the prevention of tuberculosis in persons living with HIV). Of the 40 IPT patients, 25 are HIV positive. The statistics are as of February 28, 2019.
Addressing the myths
One of the first steps in the fight against TB, Thompson noted is educating the masses on the prevention and treatment of the disease. This, she explained entails having a thorough understanding of it and separating the myths from the facts.
"There are many different myths that people would have about tuberculosis, but I think the main thing a person should know or understand is that TB is airborne and airborne only. It is not a sexually transmitted disease, you cannot get it by using someone's utensils", she explained.
Thompson also pointed to what she considers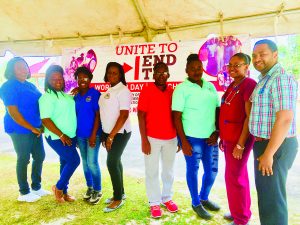 another major misconception that many people have about tuberculosis, which is, once someone is infected with it, this means they also have HIV. She explained that this may be likely, but not necessarily. In some cases, she explained, a person with HIV may never develop tuberculosis.
Testing and diagnosing
In order to determine if a suspected patient is infected with TB, a TB skin test may be done, to determine their level of exposure to the infection/ disease, Thompson explained.
"Because TB is airborne, most persons might have been around someone who has TB and they don't develop any signs. Therefore they're determined as 'Asymptomatic'. But, if they do a TB skin test they might have a reaction to the tuberculin that we may insert, and that when it is measured with the diagnostic ruler it goes above 10 millimetres. Now anything above 10 millimetres is considered abnormal", she continued.
From this step, the patient is subjected to chest x-rays and other laboratory tests to determine if they have the TB infection, also known as latent TB (no signs or symptoms) or the TB disease.
Once there is TB present, Thompson explained, it is no longer latent TB but considered active TB. She also alluded to a more recent test made available to Guyana in 2017- the Gene expert test which she noted is far more in-depth than the Sputum test.
"The HIV test is done because you do not want to start treating a patient that is HIV positive too late because what you would find is that the TB bacteria would kill that person far faster than HIV," she explained.
Thompson related that healthy lifestyle choices and maintaining a strong immune system is necessary for the prevention of TB. She also pointed to the availability of free treatment in Guyana, with medication provided through Global Fund.
She also alluded to the seriousness of ensuring treatment is administered effectively, given the contagious nature of the infection/disease. An entire course of treatment takes up to 6 months, she outlined. Thompson stressed that TB is curable, even in cases where patients have Sputum positive results. These persons, she explained can be cured at the end of the 6 month period of treatment.
According to statistics, there were approximately 20 new patients from Region 10 diagnosed with TB last year and approximately 3 patients that were re-infected. Thompson noted however that about 99 per cent of the patients treated for TB may never return to the Clinic to be re-treated.
Thompson said the Clinic also provides assistance for patients who may not have the necessary finances to purchase cleaning agents. She noted that affected patients also have a responsibility to ensure that TB is not spread and to ensure that they are not re-infected.
As such, she said patients are advised to open windows in their homes to allow fresh air to pass through so that wherever TB bacteria may be hiding in the home, there's a chance that it gets removed.
The DOTS workers also play a key role by providing door to door delivery to patients with active TB daily.
"The DOTS workers take the treatment to your house, see that you drink it if you have any complaints you tell them- they are the medium between you and the Doctor. So if anything happens to you before your next appointment they will get all the necessary information they need and write to the Doctor", Thompson explained.
Negative effects
Thompson also pointed to the negative effects TB has had on the lives of infected persons in the Region. In many cases, she said patients may have to stay away from work which in turn leads to lost wages.
"When a person becomes infected and they find out, they have to stay home from work. The least amount of time that they have to stay home from work is a month. So, that's income lost. It also depends on where they're working. Most of the patients that come into our Clinic are self-employed. So what you find is that they have loss of income", she explained.
This, Thompson noted also affects patients' ability to purchase cleaning supplies when necessary. In many instances, she said staff would join in assisting by pooling together their own resources. Thompson said the success of the Clinic has been rewarding as she has seen the quality level of work put out and the reception from patients.
Challenges
Over the years, Thompson said there has been a call for the Chest Clinic to be given its own Unit, as it is situated within the hospital itself. She pointed to the need for development and expansion, in outlining a few challenges.
"What we've been fighting for, since I've been here, we've been asking, 'What about the Linden Chest Clinic getting its own Unit? What about it getting its own building?' Because Georgetown Chest Clinic has theirs, they have their programme Unit and they have their Clinic Unit. They can look after their patients and manage their statistics at a faster rate because they have everything set out to facilitate that", she outlined.
Thompson said there are instances where it gets congested, more so with the addition of two more doctors, due to the fact that space can only accommodate one doctor. Additionally, she pointed out that treatment, in terms of receiving medication from the Materials Management Unit (MMU) has been an issue lately.
This year's PAHO/WHO campaign "focuses on accelerating the commitment to end TB following the Declaration of the UN (United Nations) General Assembly high-level meeting on ending TB, not only at the political level with Heads of State and Government, but also with governors, mayors, parliamentarians, community leaders, people affected with TB, as well as doctors, nurses and other health workers, NGOs (Non- Governmental Organizations), civil society members and other partners".