By Romario Samaroo
In the Guyana Boxing Board of Control's first event for the year dubbed 'Locked and Loaded,' Guyanese Dexter "The Kid" Marques goes toe to toe with Venezuelan Luis "Alberto" Requena Zarraga in a 10- round frantic fury in the flyweight division.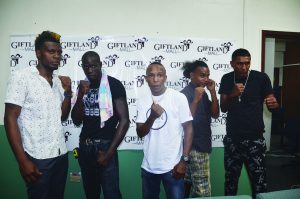 The fight is the feature bout of the card and the Guyanese pundit is ready for the challenge ahead. According to Marques, he has not seen much of the Venezuelan but the way he trains he is not worried, mainly focused on Requena coming and bringing a good fight since that is what he always looks forward to in an opponent.
"I will just go out there and do my stuff, I don't really do much talking, I leave it out in the ring and the Venezuelan, I hope he come and bring a good fight cause I always look forward to a good fight and that is the only way I can prove myself and do what I got to do and move through the ladder to the other fights," Marques stated.
Looking at Marques' career of late, he has been out of action but made it clear he is not rusty. When asked if this issue was a problem he responded by saying "yes I was out the ring for a while but that does not mean I was out of the gym, I was always in the gym I keep my body fit, do what I have to do and come the 9th of next month I got a lot of things in stored to show the public Dexter is still there and need a world title shot, this is my time now."
President of the Guyana Boxing board of Control (GBBC), Peter Abdool noted that Marques' "natural weight is 112 pounds (lbs) and at that weight he has never seen anyone give Dexter any problems at all."
Assessing the career of Marques, he has 17 professional fights, winning 15 and losing two. However, those two fights were explained by Abdool.
"The two loses were to Elton 'Coolie Bully' Dharry where he [Dexter] went up from 112 lbs, which is his natural weight to fight Dharry at 118 lbs, he didn't make that weight, he entered the fight at 114 lbs, Dharry is very strong at 118 and walked him down and he lost the fight. The second fight he lost to Leon 'Hurry Up' Moore, who is naturally heavier than that and can go from 118 lbs to 126 lbs so again he [Dexter] was fighting out of his weight," Abdool said.
He went on to add that "He lost to two champion Guyanese fighters who were fighting at their weight and not at his which is 112 lbs."
Requena has had a less colourful career when compared to Marques, having been in 17 fights as well but only being successful in eight.
The main event bout will decide where Marques career will take shape as the GBBC has already predicted a ladder in which they would like to see him climb.
Looking at the other fights carded for the night, there are three amateur bouts with the first being the 120 lbs fight between Rewinne David and Akeela Malazon in a four-round punchfest.
In the second match-up (140lbs), Kelon Isaacs will go toe to toe with Euel Augustin, before Stephan Gouveia faces Jackford Joseph in the 145lb class. Both fights will be over three rounds.
In the professional fights, Imran "Magic" Khan will lock horns with Keeve Allicock in the six round lightweight affair while Edmond Declou will go in the squared circle with Winston Pompey for the third time in their careers in a six round Super middle weight clash.
The event will be staged at the Giftland Mall, Liliendaal on April 9 and admission is set at $1,000 for general admission and $2,000 for ringside.