Karese Lloyd, Keliza Smith, Adriel Austin and Ezekiel Newton all completed doubles on the track over the weekend, as the Running Brave Athletics Club dominated the National Youth and Juniors meet.
Running Brave ended the weekend as the best performing club with 294 points, while Bladen Hall Secondary School was second with 77, and Hopetown Flames third with 74. Rounding out the top five clubs which participated at the National Track and Field Facility, Leonora, were New Amsterdam United with 67 points and Mercury Fast Laners with 61.
17-year-old Karese Lloyd of the Running Brave Athletics Club (RBAC) and 16-year-old Ezekiel Newtown of Bladen Hall Secondary completed sprint doubles in the 14-17 category, while Keliza Smith (RBAC) did the same in the 18-19 division on Sunday afternoon; continuing what can be considered a successful weekend for the young athletes.
Lloyd clocked 11.97s in the 100m on Saturday and 25.21s in the 200m to complete the feat. Newton stopped the clocked at 10.88s and 22.57s in the respective races, while Keliza Smith raced to an impressive 11.60s in the 100 and 24.16s in the 200m.
In the Girls' 14-17 200m, Police Progressive Youth Club's (PPYC) Odessa France crossed the line in second place in 25.21s, while Shellena Semple of New Amsterdam United (NAU) was third in 26.43s.
For the Boys' 14-17, PPYC's Randy Duke and Bladen Hall's Diliza Lyken completed the podium in 23.26s and 23.38s respectively.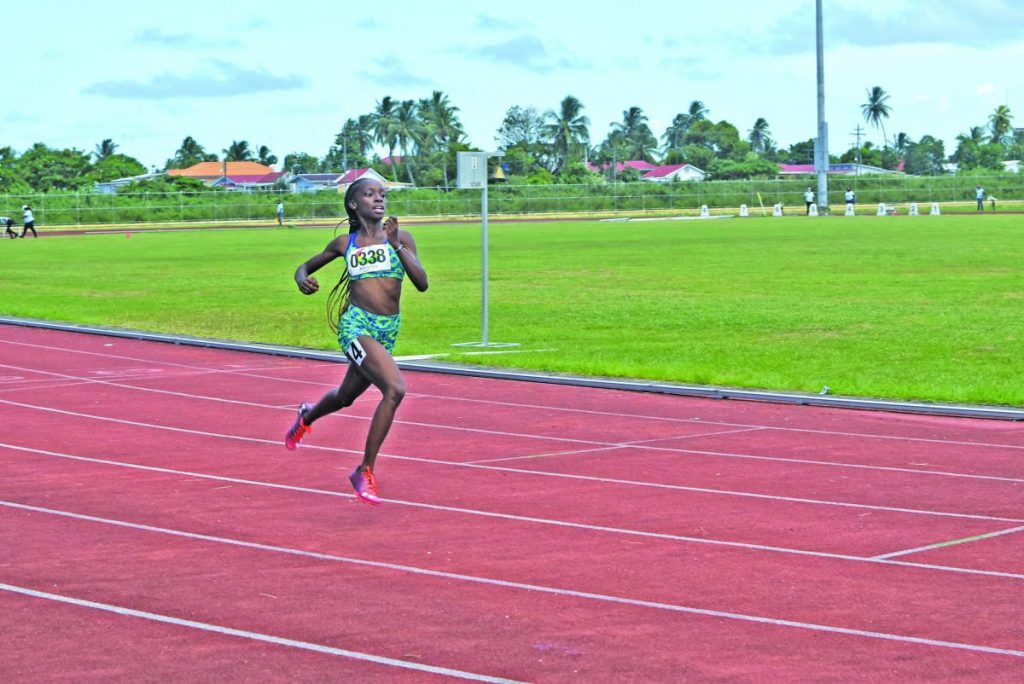 Coming off of a splendid performance in the 100m, Smith was untouchable, but Brianna Charles (RBAC) grabbed another silver in the 200m (18-19) in 24.69s, while Analissa Redmond of Super Upcoming Runners was third in 26.02s.
In the male version of that race, Revon Williams of Hopetown Flames even had time to commence his celebration before crossing the line, as he finished in 22.35s for first place. Meanwhile, Osrick Pellew (Ruralites) and Joshua Lam (NAU) were second and third in 22.59s and 22.94s.
Attoya Harvey was the leading lady in the 14-17 1500m contest, clocking 5:23.90 for the win. Her Running Brave clubmate Adriel Austin was second with 5:33.37, while Upper Demerara Schools' Hannah Joseph was third in 5:42.43.
Christianburg Wismar's Shaqua Tyrell was the easy winner of the 18-19 category, as she clocked 5:02.85. crossing the line soon after was RBAC's Aaliyah Headley in 5:15.34, and Mercury Fast Laners' Jelesa Wright in 5:19.74.
For the males, Samuel Henry (Ruralites) championed the 14-17 1500m race with a time of 4:27.92. Finishing second and third were Timothy France of Ruralites in 4:28.30 and RBAC's Odida Parkinson with a time 4:34.34.
In the next category up, Hopetown Flames' Matthew Gordon clocked 4:14.86 for the 1500m. Crossing the line next was Running Brave's Carlton Kingston in 4:21.90, while Kitwana Goodman of DeChallengers stopped the clock at 5:12.56 for third.
In the sand pit, Wesley Tyndall leaped to 6.99m for a 14-17 long jump win, followed by Trevon Hamer and David Higgins with 6.62m and 6.35m.
Stafon Roach took the 18-19 gold with a 6.95m jump. Melon Lowenfield and Devonte Campbell leaped to 6.92m and 6.35m for second and third.
In the same age division, Annalisa Redmond pipped Keliza Smith in a two-woman competition. Redmond leaped 5.40m while Smith took second with 5.26m.
Meanwhile in the 14-17 Girls' category, Odessa France jumped ahead of the field of competitors with a best jump of 4.99m for the victory. Amerist Hector of New Amsterdam United was second with a leap of 4.86m, and Hannah Joseph third in 4.84m.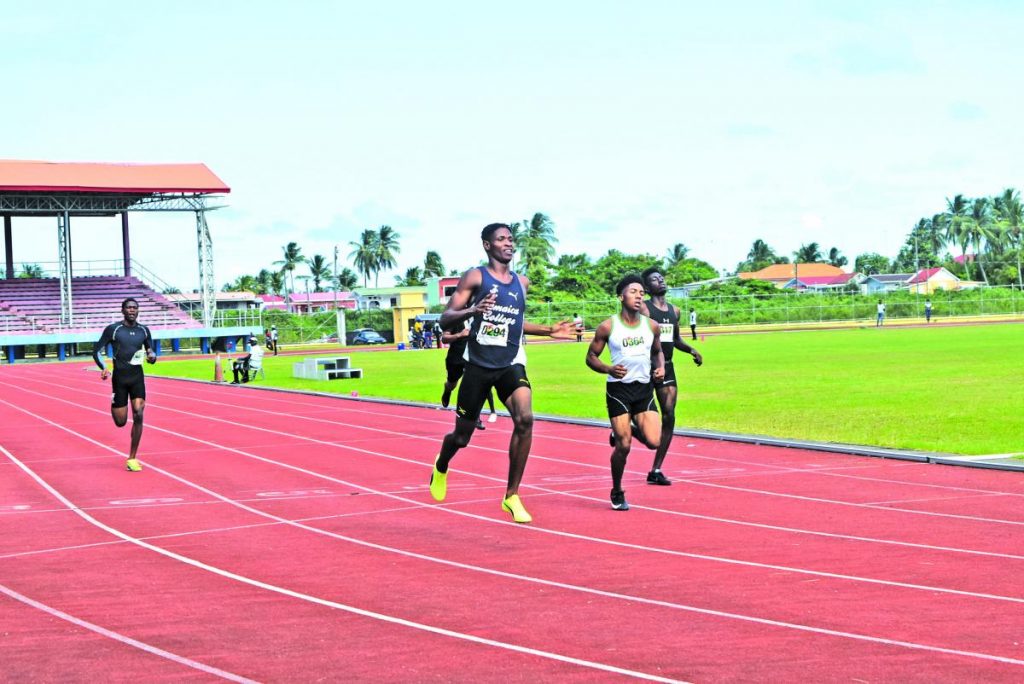 A mixed 4x400m relay closed the weekend's proceeding as Running Brave clinched gold in 3:46.86s. Their team comprised Adriel Austin, Attoya Harvey, Javon Roberts and Carlton Kingston.
The Super Upcoming Runners quartet of Celine David, Malachi Austin, Simeon Adams and Analissa Redmond followed in 3:58.26s, while Stafon Roach, Jelesa Wright Trevon Hamer and Rashida Clarke teamed up to get Mercury Fast Laners across the line in 4:19.43s for third place.