After 1 year off Toronto exchange
Omai Gold Mines, which is aiming to reclaim its place as Guyana's top gold producer, has announced the impending resumption of trading following a recent reverse takeover.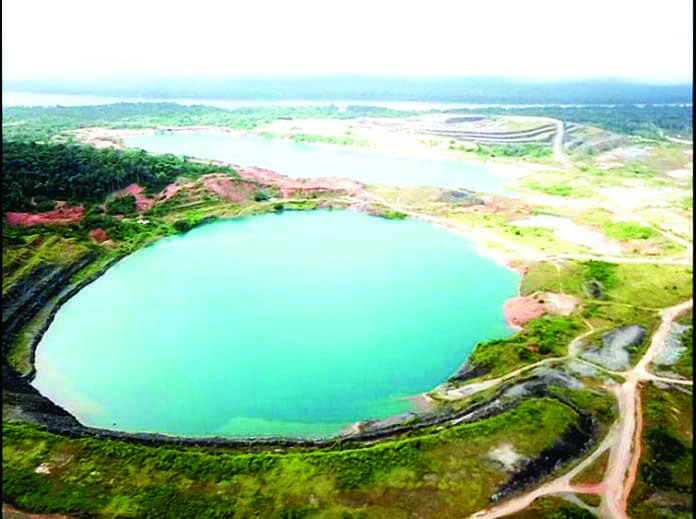 The news was announced by Omai Gold Mines on Tuesday and it comes following the completion of its reverse takeover of Avalon Investment Holdings.
According to Omai, trading will resume on the Toronto Stock Exchange as a Tier 2 mining issuer under the symbol "OMG" as of November 18, 2020.
It was further explained that the shares held by former Avalon shareholders have been cancelled. According to Omai, the shares of the Resulting Issuer have been issued to those shareholders in replacement.
"Following the closing of the RTO (reverse takeover transaction), the company has a total of 189,869,799 common shares issued and outstanding. An aggregate of 57,095,017 common shares and 4,500,008 stock options held by the Principals of the Company are subject to Tier 2 Value Escrow," the company said.
According to the company, the escrow shares will be released in phases, with the first stage seeing 5 per cent being released on the issuance of the Final Exchange Bulletin and the remainder being released within three years.
It was only recently that Omai completed its takeover of Avalon, a Barbados-based company. The takeover saw Omai getting a new Board of Directors and President in the form of Mario Stifano.
The new Board of Directors meanwhile includes Denis Clement, Adam Spencer and Paul Fornazzari; Executive Director and Founder Harvey McKenzie; Chief Financial Officer and Secretary Denis LaPoint; Vice President of Exploration, Jason Brewster and Vice President of Operations, Nadine Miller.
On closing of the transaction, James Franklin, Michael Florence and John Sadowski resigned as Directors of the company and Jason Brewster resigned as President and CEO of the company. Clearhouse LLP, Chartered Accountants were, however, retained as the auditors of Omai.
Avalon was a private gold exploration company focused on gold projects in Guyana. The company's flagship gold project was the famous Omai Gold Mine, which it acquired from the Government of Guyana in 2018.
Back in July 2020, Avalon, at the time the holder of an indirect 100 per cent interest in the Omai Gold Mine in Guyana, had announced that it had completed a non-brokered private placement financing for aggregate proceeds of US$4,500,000.
Under the terms of the financing, Avalon issued 30,000,000 common shares of Avalon to a subsidiary of Silvercorp Metals Inc at a price of US$0.15 per common share. Silvercorp is a profitable Canadian mining company producing silver, lead and zinc metals in concentrates from mines in China.
Trade in Omai's common shares on the Toronto stock exchange was halted since last year at the company's request.
Omai is reportedly sitting on potentially 15 million ounces of gold deposits. And Omai's Vice President of Exploration, Dr Dennis LaPoint has been confident that the company can become Guyana's top gold producer again.
In a previous interview with this publication, LaPoint had said that they are likely to surpass the figures being churned out by Aurora (recently taken over by new management) and Troy Resources (which restarted operations in January after a two-month closure).
LaPoint had explained that under its former management, Cambior, Omai produced 3.7 million ounces of gold. But according to him, this has hardly scratched the surface and Omai is far from mined out. In fact, he had noted that Cambior would have continued its work on the then Fennell and Wenot pits, were it not for their financial difficulties.