…13 arrested
The parameters of the Stabroek Market were thoroughly searched on Saturday by ranks of the Guyana Police Force, during an impromptu raid for drugs and illegal items. As a result, 13 persons were arrested.
Sniffer dogs were also dispatched to the area and dozens of ranks equipped with high-profile equipment were stationed mainly at the entrances of the market.
Based on Police information, the Criminal Investigation Department (CID) headquarters, Canine Department, Construction Department, Tactical Services Unit, Firearms Unit and Narcotics branches of the Force cordoned off the area. A search operation was conducted at the market and around the routes 31 (Patentia), 32 (Parika), 40 (Kitty/Campbellville), 41(South) and 44 (Mahaica) bus parks.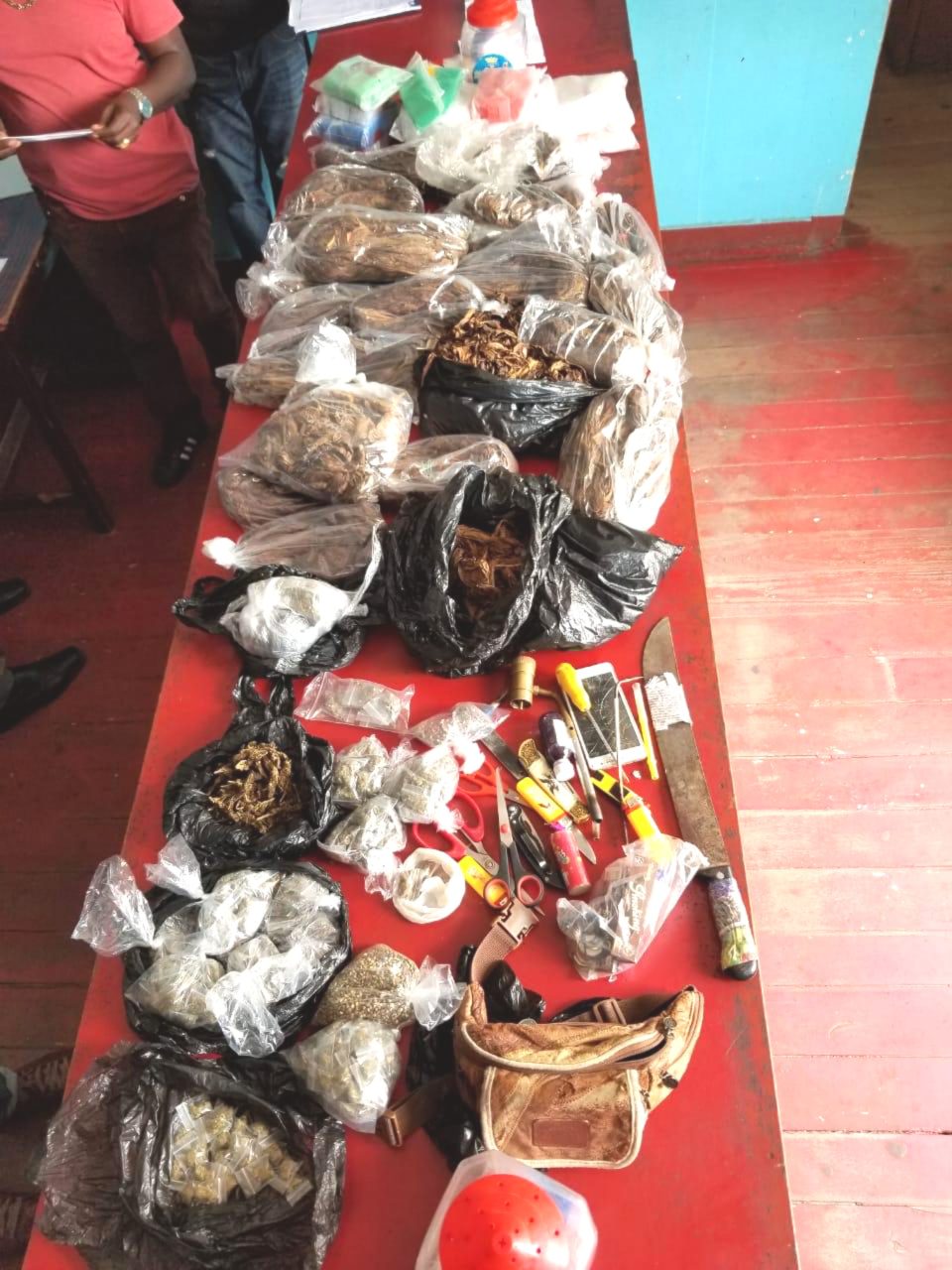 Sniffer dogs assisted in locating some of the drugs and vendors at the market were questioned as the area was subsequently combed for illegal items. During the search, 128 grams of marijuana seeds and 561 grams of cannabis along with several knifes and other sharp objects were seized.
Thirteen persons were detained – three for possession of narcotics and the others for questioning in relation to several offences.
Guyana Times understands that a meeting was convened with Georgetown Major Ubraj Narine; Police Commissioner Leslie James; Divisional Commanders and senior officials of the Force on Friday to deal with the situation at the Stabroek Market area.
According to the Police, the Mayor raised issues of effective policing around Georgetown, along with other challenging factors which were pertinent to eradicating crime.
Concerns by the Mayor sparked decisions to have a joint collaboration between the City Constabulary and A Division (Georgetown-East Bank Demerara).
Just prior to the raid, bus operators were arrested for various offences such as having offensive weapons such as knives and ice picks, tint, breach of road services licence (amplifier set and equaliser in minibuses), breach of road services licence (offensive words and designs on minibuses) and defective tyres.
As part of the exercise, traffic ranks stationed at the Brickdam Police Station, which also houses the Divisional Headquarters, took the opportunity to educate the delinquent drivers and conductors about the seriousness of these offences prior to releasing them.
They were advised on issues such as the seating capacity of a minibus; working attire; obstruction of traffic around the Stabroek Market area; playing of loud or offensive music; speed limit; cleanliness of the interior of the minibuses; paying of traffic tickets; insurance of motor vehicle, and adhering to all traffic laws and regulations.
Following the teaching session, the drivers were all grateful to the Police for their leniency and thanked them for the advice given.