When play in the Upper Demerara Football Association's Senior Football League championship continued last Sunday at the Mackenzie Sports Club, Botafago scored a solid 3-0 win over Blueberry Hill United, but Silver Shattas and Amelia's Ward Panthers had to settle for a 2-2 draw.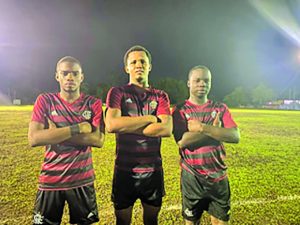 The first game of the night began with Carlton Hinds netting as early as the 11th minute to give the Panthers a 1-0 advantage, but Quincy Oudkirk levelled things for the Shattas in the 31st minute, and Damian Williams then nudged Shattas into the lead in the 44th minute, to end the first period 2-1 in Shattas' favour.
But while the scores seemed to favour a win for the Shattas, Panthers gained a 92nd minute goal when Greavan Hodge found the back of the net, and the game ended 2-2.
The second game saw the Botafago lineup plunder goals in the first half of the game, with Ojani Whittington netting in the 8th minute, while Tevin Thomas netted in the 12th, and Antoine Gill in the 14th minute.
The first half ended 3-0 for Botafago, and the second half ended with the scores unchanged.
On Thursday two other matches are set for the MSC ground, with the first being between Kwakwani Strikers and Net Rockers and the other featuring Capital FC and Coomacka.