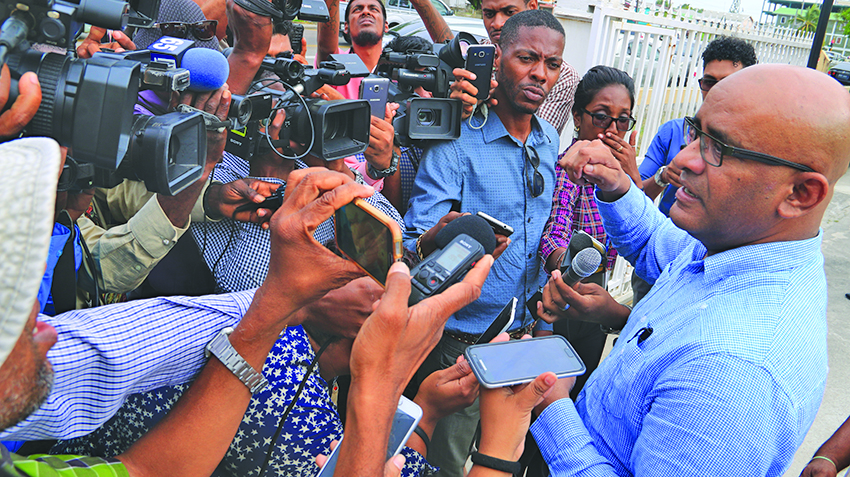 … as SOCU briefly detains Jagdeo, Dr Luncheon among others
BY DEVINA SAMAROO
Tension, suspense and apprehension swept across the nation as the masses followed with close interest the egregious arrest of former top Government officials by agents of the Special Organised Crime Unit (SOCU) of the Guyana Police Force (GPF) in relation to their investigation of misappropriation of State assets.
Former President and Opposition Leader Bharrat Jagdeo, former Head of the Presidential Secretariat, Dr Roger Luncheon, and former Natural Resources Minister Robert Persaud were among those who were taken into custody for questioning at SOCU's Headquarters on Camp Street on Tuesday afternoon.
Other persons, who were detained and questioned are General Manager of the Guyana Gold Board and daughter of former President Donald Ramotar, Lisaveta Ramotar; former President of the Private Sector Commission, Ramesh Dookhoo; former Secretary to NICIL Marcia Nadir-Sharma; and the son of former Labour Minister, Dr Nanda Gopaul, Dr Ghansham Singh.
These arrests and detentions come days after Public Security Minister Khemraj Ramjattan threatened criminal charges against former Government officials, causing many in the Opposition camp to believe the actions taken by SOCU were politically motivated by the Executive.
But Opposition Leader Bharrat Jagdeo lashing back at the Government on Tuesday said the actions have nothing to do with fighting corruption but rather about instilling fear and intimidating those who resist policies of the coalition Administration.
SOCU had requested several officials including current parliamentarians to visit its Headquarters for questioning in relation to the Pradoville 2 case but one of their attorneys, Anil Nandlall responded by informing the Authority that interrogation can take place at the Office of the Opposition Leader, Church Street.
Arrests
SOCU officials arrived at the Opposition Leader's Office shortly after 14:00h under directives to "arrest" Dr Luncheon, who immediately complied.
Dr Luncheon, speaking to the media as he was being escorted by the agents, repeated his unawareness of the basis of his arrest and pleaded his innocence.
At the time, Ramotar's daughter and the former Natural Resources Minister were already at SOCU's Headquarters. Guyana Times understand that they voluntarily visited the office for the interviews and upon arrival, they were detained.
Ramotar's daughter was detained for over seven hours.
Shortly after Dr Luncheon was arrested; SOCU's Head, Sydney James and British Advisor to SOCU, Dr Sam Sittlington arrived at the Opposition Leader's Office and requested that he head down to the headquarters for questioning.
Speaking to media operatives afterwards, Jagdeo said he was "arrested".
"After the media left, they came over and said you are arrested. My lawyers who were there, asked and there was a hemming and hawing about the nature of the charges, nevertheless we did not resist arrest," he explained.
Jagdeo explained that ahead of his interrogation, he asked the agents whether he is being questioned in his private capacity or his official capacity as his actions as President are immune.
"I asked if they are asking questions in my private capacity or official capacity because in doing that you are going to breach the veil of immunity that I have for official acts and that will have far reaching consequences in this country," he stated. The Opposition Leader said he declined to answer questions posed to him in his private capacity. He disclosed that questions were relating to the audit reports' findings on the Pradoville 2 transaction, NICIL and NCN operations.
Jagdeo anticipates that charges will be laid, given Government's "agenda", but assured that the charges will be challenged in the courts.
Political pressure
In analysing the situation, the Opposition Leader said he strongly believes these unprecedented actions taken by SOCU are politically motivated and meant to silence the vociferous voices against the wrongdoings of the coalition.
"I sympathise for the people who work here (SOCU) because they are under severe political pressure. Every week, the Head of the State Assets Recovery Unity, Dr Clive Thomas speaks about who they should lock up. A week ago, Public Security Minister Khemraj Ramjattan, ahead of a Police investigation, talked about locking up people this week. The Attorney General put $100 million in his budget to come after political opponents," he outlined.
In a press briefing moments after Dr Luncheon's "arrest" and shortly before his own, Jagdeo declared that the actions being deployed by the SOCU will go down in history as one of the greatest acts of injustices in Guyana.
"I spoke about this Government's newest attempts to intimidate society guided by a mistaken belief that they will make the citizens more compliant and have people be fearful of criticising them and exposing their wrongdoing," he remarked.
Jagdeo maintained his long held position that Government's priorities are backwards as instead of focusing on developing the country, it is employing vindictive and witch-hunting strategies.
"The reason the Government is doing this is because it is failing miserably in every single area across the country. It is facing the wrath of many ordinary people, [People's Progressive Party] PPP supporters as well as [A Partnership for National Unity] APNU supporters because it has not delivered on any of its promises, it can't lead this country to a prosperous future. In fact, people's welfares are declining, more and more people are protesting its actions… the country is in economic disarray and we are seeing a steady insidious move to erode our constitutional rights," he stated.
But the Opposition Leader reaffirmed that the PPP will not be intimidated and will continue to expose and speak out against the transgressions of the government.
SOCU's role
Jagdeo also questioned what he saw as the subversion of SOCU's role. He explained that the Unit was established under the GPF for the purpose of supporting the Financial Intelligence Unity (FIU) in investigating organised crime.
He reminded that it was APNU was constantly cried that the entire economy was developing on drugs money.
In this regard, the former President asked why the SOCU has not yet launched any probe, made any arrest or laid any charges against drug dealers, gold smugglers or money launderers.
"Yet we have not witnessed a single action taken by SOCU against any drug dealer or money laundering of persons who have smuggled billions of dollars or gold but we have seen the arrest of Dr Luncheon by SOCU because the Government believes he got a house lot at Pradoville 2 fraudulently," he reasoned.
Nonetheless, Jagdeo warned that those who misuse their offices now will face the consequences in the future. The reason these persons are being questioned is because they purchased property at the Sparendaam seawall area commonly known as "Pradoville 2".
The current Administration contends the transaction is a criminal act because of the belief that it was sold below market value.
However other persons who have property in the area including former Army Chief Gary Bess and former President of the Caribbean Development Bank, Dr Compton Bourne have not been summoned for similar questioning.
Govt's response
In a statement after the drama died down, Government indicated its satisfaction with the work of SOCU and dismissed suspicions that Unit was acting under its instructions.
More persons are expected to be questioned during the course of the week including former Government Ministers Priya Manickchand, Clement Rohee, Irfaan Ali and Jennifer Westford.