Waramuri Primary defeat Santa Rosa Secondary School by 94 runs in T/10 friendly…
Under overcast conditions and watched by a fair-size crowd including parents, children and teachers, Waramuri Primary School's secondary department defeated Santa Rosa Secondary School by 94 runs in a T/10 friendly hardball encounter at the Waramuri Recreational Ground on Tuesday last in the Moruca sub-region.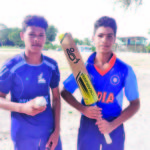 Waramuri Primary School was inserted in to take first strike on the ExxonMobil-sponsored upgraded ground as they made 157 for 1 off their allotted overs. Thirteen-year-old opening batsman Bruce Vincent, who batted with maturity, made an unbeaten 63 (11×4, 1×6) while he shared in an opening partnership of 94 runs with Jason Austin, who contributed a patient 26 (2×4, 1×6). Skipper Nico Vincent joined younger brother Bruce Vincent and kept the pressure on as he made a quickfire unbeaten 39 (4×4, 3×6), while Santa Rosa Secondary's Raul Partab was the lone successful wicket-taker with figures 1-27 off his two overs. The Santa Rosa side were never in the game from the beginning as their opponents mounted the pressure on them from ball one, rarely making any errors in their batting. Their combination of class and aggression allowed them to score at a whopping net run rate of 15.7 runs per over.In reply, Santa Rosa Secondary School were restricted to a paltry 63-7 as their overs expired as middle-order batsmen Kelly Greenidge and Shamar John were the only batsmen who made double figures of 21 not out and 13 respectively. Waramuri Primary School's Alex Frazer was the most successful bowler as he took 3-18 off his two overs. The SRSS side could not replicate what their opponents did in the first half of the match; their batsmen were under pressure so they were forced to go on the attack. In the end, the pressure was too much and SRSS folded.