Set to commence on Saturday, the KFC Goodwill Tournament now has a long list of sponsors, as the Trophy Stall hopped on board today.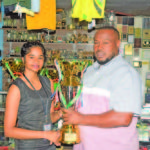 The second annual Goodwill Tournament will kick off on Saturday, December 14 with participation from local and foreign-based school teams. The Shiva Boys out of Trinidad and Tobago; USL Montjoly of French Guiana; Annai, Waramadong, Annandale and Lodge Secondary of Guyana will now be competing in hopes of copping trophies and medals donated by Ramesh Sunich's Trophy Stall.
The five-day competition gives the local teams the opportunity to test their skills against some of the best school teams in the Region.
Speaking at the simple presentation ceremony on Wednesday morning, Petra's Co-Director Troy Mendonca praised their sponsors for their support of the KFC tournament and for their involvement in the wider sport fraternity.
"Trophy Stall has been one of the businesses that support sports throughout the country over the years and it's an honour to be associated with them once again. Only recently, one individual was saying that we want sportsmen and women to excel and the support is lacking. So, I want to on behalf of the entire sports fraternity applaud Trophy Stall for the contribution they have been making over the years," Mendonca expressed.
The tournament is poised to showcase top-notch football skills with six nail-biting games scheduled for the preliminary round from December 14 to 18. On December 20, the semi-finals will go down with the final slated for December 22.
As such, Mendonca shared what to expect come next week.
"It's a process that we think over the next three or four years we're hoping that our players here could be of standard of the other Under-18 players. I think we have a very good tournament in Guyoil and the two teams that have topped have shown improvement and we expect the teams from the interior to show that talent that is hidden there. We know what Shiva Boys have and we don't know much about Montjoly, but we expect a very good and fair competition," Mendonca detailed.
Also on board with the KFC Goodwill Tournament is the Guyana Coema Construction and Services Inc, who will be transporting Annai Secondary to and from the Georgetown venue of the tournament. Mike's Pharmacy under its Vitabiotics are also on board with the Goodwill tournament.