…suspect on the run
Seventy-five-year-old Jasodra Kalisar, also called 'Bucko', a pensioner of Grant 1779 Crabwood Creek, Corentyne, Berbice (Region Six), was reportedly raped at her home at about 2:00h on Friday, and succumbed at the New Amsterdam Hospital to the injuries she sustained in that ordeal at about 15:00h that day.
Reports are that the woman was alone in her flat concrete house because her 13-year-old grandson who had lived with her had gone missing for three days prior to the incident.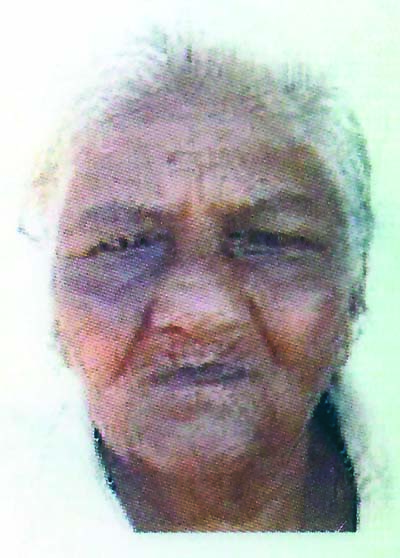 According to the woman's daughter, Jamette Jordan, her mother came into her yard at about 2:05h, calling for her. After putting on a light, she realised that her mother was bleeding. There was blood coming from her mother's ears, mouth, one of her eyes and her neck; and she had a sheet tied around her neck. According to Jordan, the sheet had three knots.
Jordan explained that there were several marks of violence on her mother's body, suggesting that she had been beaten, and she had lost all of her teeth. However, her mother did not tell her that she had been raped. It was at the hospital that she realised that her mother had been raped.
The victim was rushed to the Skeldon Hospital, and communicated with medical personal. When she arrived at the New Amsterdam Hospital, the Police were already there.
Police, in a release, said detectives are making stringent efforts to apprehend a male suspect who allegedly beat and raped a pensioner at her Crabwood Creek home.
According to investigators, shortly after the act was committed, the known suspect fled the scene, and the terrified victim rushed over to her daughter, who lives nearby. She was transported to the Skeldon Hospital, and then transferred to the New Amsterdam Hospital, where she subsequently succumbed to the injuries she had sustained.
The now dead woman's son, Raymond Kalisar, told this publication that he knows who the suspect is. According to him, the 34-year-old suspect works as a handyman on a cattle ranch along the Corentyne River. According to the grieving son, the suspect was away for two months, working. He returned to the area on Thursday, and was seen drinking.
He explained that a pair of slippers similar to the pair the suspect was earlier seen wearing were left at the mother's door.
The late Jasodra Kalisar leaves to mourn five children and several grandchildren.