After almost four months of lockdown and forfeiting an in-person Ramadan in May, Muslims in Guyana have opted to celebrate Eid-ul-Adha with strict protective measures in place.
As the country embarks on Phase Four of its reopening process, Eid-ul-Adha, a festival during which Muslim families and friends unite to pray together and give sacrifices, was still celebrated.
With the presence of the coronavirus, the Public Health Ministry had advised that social gatherings and religious practices be observed differently across the country. As such, this year, mosques across Guyana hosted Eid under strict guidelines, including taking temperatures at the points of entry, mandating face masks and observing six feet of distance between individuals.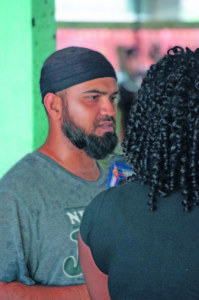 In an interview with Guyana Times, Central Executive Council Member of the Central Islamic Organisation of Guyana (CIOG) and Deputy Imam of the Queenstown Jama Masjid, Omar Haniff explained the importance of the holiday.
He elucidated that Eid al-Adha is celebrated annually on the 10th day of the 12th month (Zul Hijjah) of the lunar Islamic calendar. The festivities last for three days and are one of the rituals of the Hajj, the annual pilgrimage to Mecca in Saudi Arabia by Muslims worldwide.
Haniff said the religious holiday commemorates Abraham's sacrifice. This annual sacrifice in Islam is not an end in itself but only a means towards an end.
"We commemorate this sacrifice every year… for us, we were not called upon to sacrifice our children like Abraham, we are parting with our wealth by sacrificing the animals. We are not only parting with wealth, but sharing it with others. So, we sacrifice the animals for God, it is not the blood or the meat that meets God Almighty, but it that intention, that sincerity, that willingness, to obey and to (live) a life for something greater than yourself", he said.
According to Haniff, one thing the Masjids did differently this year, was to have all of the animals sacrificed at one place, which is at the Central Islamic Organisation of Guyana (CIOG), before the distribution.
"This year is a bit different because of the pandemic. We don't have the crowd. Of course, we have to take precautions. We would not be distributing any meat here [CIOG], everyone who have done their sacrifice will be responsible for taking their meat away and do their own distributions".
Meanwhile, Sajid Khan, the Imam of Kitty Masjid, shared with this publication that because of COVID-19 measures, the celebrations were downscaled with numerous safety measures in place.
"Even with the distribution in regards to the sharing, we are not doing any distributions on site, we have made special arrangements to distribute the meat, to member and to the poor of the community. We have special arrangements from tomorrow. We have people who will be taking it to the homes of members, and also have systems in place for people of the community to come at a specific time. We have also put precautionary measures in places… and that will be done tomorrow", he explained.
Along with the slaughtering of animals, Muslims also celebrate this day by making various delicacies that are usually distributed to the less fortunate, neighbours and friends. (G9)