Having concluded arguments, the Court of Appeal (CoA) on Wednesday announced that it would reserve its ruling in the appeal against acting Chief Justice Roxane George's decision to dismiss election petition #88, which is seeking to invalidate the results of the March 2020 elections.
In that matter, petitioners Claudette Thorne and Heston Bostwick have maintained that the results of the March 2020 elections must be annulled on the grounds of serious non-compliance with the Constitution of Guyana and electoral laws. They have also maintained that Order #60 (the Recount Order), which birthed the recount of all votes cast, is invalid and of no legal effect.
At another hearing on Wednesday, the petitioners' lawyer, Roysdale Forde, SC, made a relatively lengthy address to the court, and most of his arguments were repeated from the initial hearing, which was on February 8. In fact, Douglas Mendes, SC, who is appearing for Vice President Dr Bharrat Jagdeo, one of the respondents, called out Forde for recapping his previous submissions, and declined to respond to him. Forde was the first to address the court.
Most of the other lawyers indicated that they did not wish to say anything in reply to his arguments.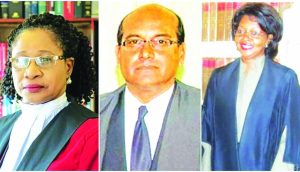 The three-bench panel comprising acting Chancellor of the Judiciary Justice Yonette Cummings-Edwards and Justices of Appeal Dawn Gregory and Rishi Persaud are likely to hand down their decision soon, given the public interest nature of the case.
This petition was dismissed almost two years ago by the acting Chief Justice, who had, among other things, found that the petitioners had failed to present evidence to support the contention that the conduct of the elections had contravened the Constitution and electoral laws.
At the February 8 hearing, Attorney General Anil Nandlall, SC, had asked the appellate court to dismiss the petitioners' appeal, which he described as misconceived and without merit.
Thorne and Bostwick's main contention is that Section 22 of the Elections Law (Amendment) Act (ELAA), and Order #60 which was created pursuant to Article 162 (2) of the Constitution and Section 22 of the ELAA, violated the Constitution. That order was brought into effect by GECOM to give life to the national recount process, after controversy erupted over former Region Four (Demerara-Mahaica) Returning Officer (RO) Clairmont Mingo's declaration.
All the political parties that contested that election had agreed to the recount process to end the political standoff.
According to the Attorney General, the wide ambit of power was conferred on GECOM by Article 162 (2) because of the serious controversies, difficulties, violence, and public disorder which historically erupted in Guyana during national elections.
Notwithstanding the broad powers of GECOM under Article 162 (2), controversies and civil unrest have persisted at election time in Guyana, Nandlall had said in his address to the court.
"No doubt, this birthed Section 22 of the Election Laws (Amendment) Act, which imbues GECOM with wide-ranging powers to remove difficulties arising from or connected with an election, including the power to amend legislation if it is necessary or expedient to do so."
He had argued that it is "beyond dispute" that difficulty arose in respect of the 2020 elections, and so the basis for the invocation by GECOM of Section 22 of the ELAA cannot be contested.
In light of this, Nandlall had maintained that the delegated power was not used arbitrarily or for any unauthorised purpose, and it was exercised intra vires.
For his part, Mendes had submitted that Order #60 was properly and lawfully issued by GECOM. He had contended that even if the court determined that Section 22 of the ELAA was unconstitutional, the election complied substantially with the laws of Guyana, it was not a sham, and it reflected the will of the people, and therefore there is no basis to nullify the results.
While pointing out that there were no breaches of any law, GECOM's lawyer Anthony Astaphan, SC had submitted that had it not been for the recount order, only God would have been able to say when the results of the elections would have been declared. As such, he had contended that GECOM acted in the public's interest to ensure a declaration was made in a timely manner, while highlighting that the recount of the votes was done in full view of the public.
Even if there was a breach of law in the conduct of the elections, the Senior Counsel had argued, this alone would not be sufficient to nullify the recount results.
Forde, on the other hand, has insisted that his clients have a good case, because Justice George erred in law when she ruled that Section 22 of the ELAA and Order #60 made thereunder were not in violation of the Constitution of Guyana.
According to him, by virtue of the APNU/AFC's application for the election results to be declared invalid, both Section 22 and Order #60, which flowed directly from Article 162 of the Constitution, were in conflict with and/or contravened Article 177 of the Constitution.
In court documents seen by this publication, he had argued, inter alia, that Justice George again erred in law when she found that Order #60 was a mechanism to allow for the recount to be conducted by expanding the recount provisions in the Representation of the People Act (RoPA).
The Senior Counsel had submitted that the Chief Justice erred in law when she failed to find that the mechanisms set out in the recount order amounted to a substantial variation from the RoPA, and consequently could not be said to have "merely modified" the Act.
Justice George, in her ruling, had noted that neither Section 22 nor the recount order was ultra vires the Constitution. She had added that Article 162 empowered GECOM to take whatever actions were necessary to conclude the elections, including embarking on a recount of all ballots.
Alluding to the events that occurred after the close of polls, Justice George had noted, "Given the difficulties, it does appear that it would not have been prudent for GECOM to declare the results in the peculiar circumstances that accompanied the completion of the process of the March 2 Elections. A combination of Article 162 (1) (b) of the Constitution and Section 22 confer the power upon GECOM to issue this [Recount] Order if GECOM considered it necessary or expedient to ensure impartiality, fairness, and compliance…as regards the election process."
Both of APNU/AFC's election petitions have been dismissed by the Chief Justice. In January 2021, she dismissed election petition #99, which was brought by Brennan Nurse and Monica Thomas, owing to their non-compliance with effecting service on the Coalition's Presidential Candidate, David Granger.
The party had appealed her ruling to the Court of Appeal, which by a majority decision on December 21, 2021 held that it had jurisdiction to hear an appeal against a ruling of the High Court to dismiss an election petition on the basis of procedural impropriety.
Nandlall and Jagdeo then appealed the local appeal court's ruling to the Trinidad-based Caribbean Court of Justice (CCJ), which in October 2022 found that the CoA had no jurisdiction to hear an election dismissed for the reasons listed by Justice George. Given the ruling of the country's apex court, that ruling was quashed and the Chief Justice's decision was restored.
The manner of service is prescribed in Rule 9 (1) of the National Assembly (Validity of Elections) Rules, which imposes on the petitioners the statutory obligation to effect service within five days after the presentation of the petition. Having been filed on September 15, 2020, the petition should have been served on Granger five days thereafter, which would have been September 21, 2020, since the fifth day – September 20, 2020 – was a Sunday. But in Nurse's Affidavit of Service, it was stated that the petition, along with the relevant documents, was only served on Granger on September 25, 2020 – five days outside of the statutorily prescribed period.
Petition # 99 can no longer be heard, as all right of appeal has been exhausted. (G1)