Although the patient did not survive, two doctors at the New Amsterdam Public Hospital are being hailed "heroes of the night" for going out of their way to at least provide a 43-year-old accident victim with a fighting chance at life by voluntarily donating their blood.
The two young doctors; Loinel Henry and Nyron Sugrim, made themselves readily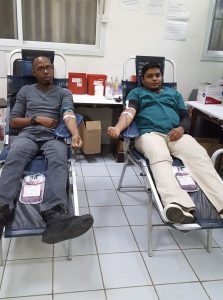 available on Monday evening and donated one unit of blood each to a complete stranger who was moments earlier involved in vehicular accident. Henry, who is attached to the paediatric department of the medical institution, said he was at the time doing an admission when he saw the man whom he learnt was in a critical condition. Doctors were conducting Cardiopulmonary Resuscitation (CPR) and the Cuba trained doctor went to render assistance.
The young doctor also has an "O" negative blood type, which allows him to offer such assistance in any emergency situation. He said he was "a bit scared" as he had never before given blood. He said he however did not give much thought to it, since he realised that the patient was in a critical state.
"He died eventually in the theatre. But there wasn't any blood and I know that if I did not give, I probably would have felt bad," the doctor said.
Asked about his feelings having gone the extra mile, Henry said he "felt good", as he serves in a profession that allows him to be compassionate to others.
Meanwhile, Dr Nyron Sugrim said he was handling the case when the patient arrived. He said he was trying to console the man, telling him that "everything would be fine."
He said, however, the man's condition worsened and with his rapid loss of blood and the inadequate supply at the blood bank, he also made a decision to give his blood.
"His family members weren't around… So realising the man was O positive and I am O positive… right away myself and Dr Henry was there and we decided to donate," he said. (Alexis Rodney)