– corporate assistance still needed
The Guyana National Rifle Association (GuyanaNRA) on Monday received a timely donation from the Guyana Olympic Association (GOA).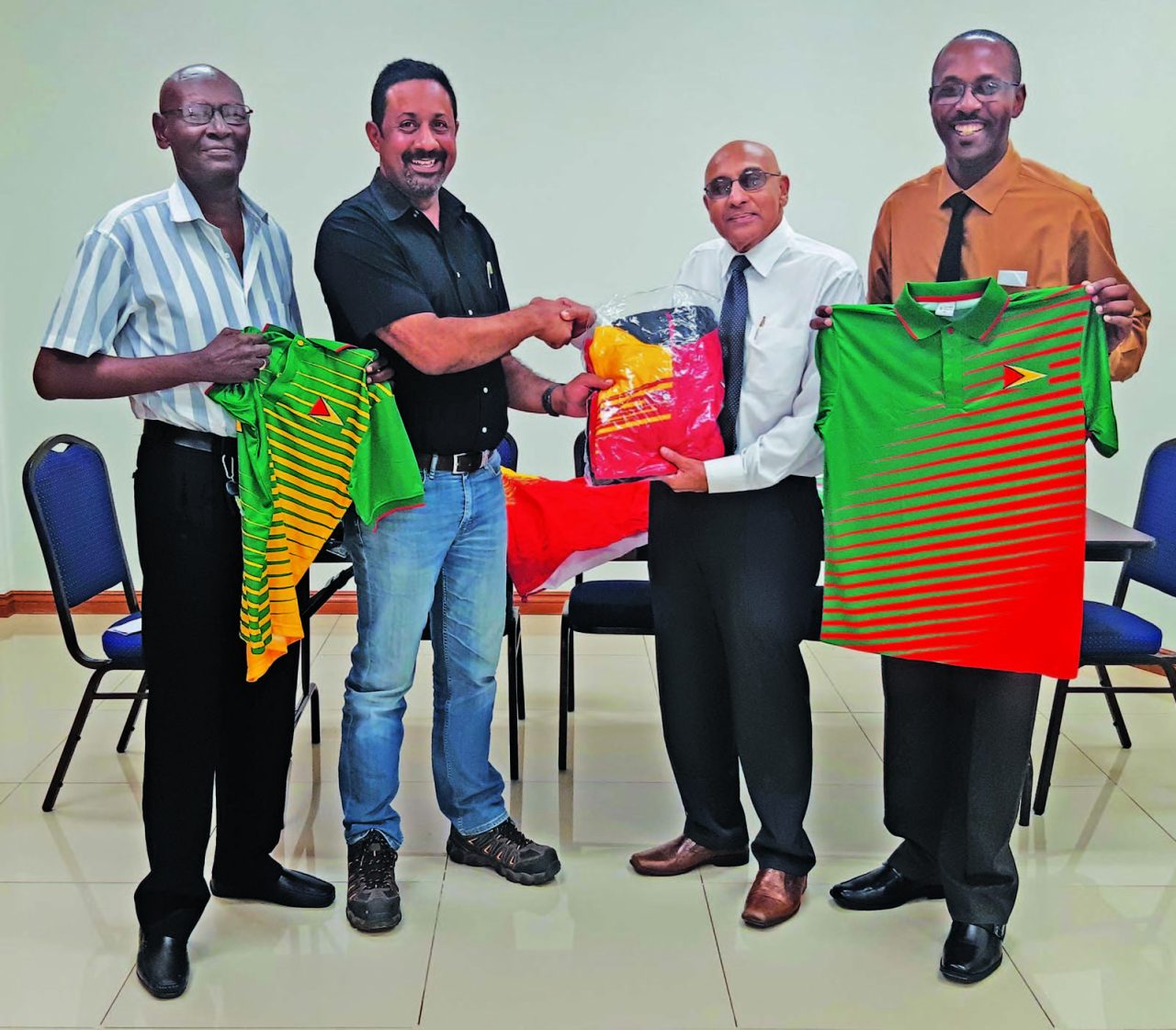 GOA President KA Juman-Yassin responded to the request from the GuyanaNRA for assistance and outfitted the National Rifle Team members with jerseys and track suits ahead of the 2019 edition of the West Indies Fullbore Shooting Championships to be hosted by Trinidad and Tobago.
Vice Captain of the national team, Dylan Fields, accepted the donation in the presence of two other team members. Fields expressed the Association's gratitude to the GOA for the donation and stated that they were looking forward to future collaborations with the GOA.
Fields stated that this donation would further add to the professional outfit of the team, "as we will be well-uniformed as ambassadors of our country".
On team preparations for the West Indies Fullbore Shooting Council's Individual, Long and Short Range Championships, Fields said that the shooters have been training hard each Sunday for the past few months and were beginning to peak.
This Sunday will be the last team training before departure on October 19 for Trinidad and Tobago, where Guyana will be facing the host nation, Barbados, Jamaica, and Antigua and Barbuda in what is anticipated to be another fierce battle across the various ranges.
In offering brief comments, Juman-Yassin said he was happy that the GOA was able to outfit the rifle team which has been doing Guyana proud over the years and he was equally happy to hear that Captain Mahendra Persaud would be joining the team this year as Coach in the twin-island republic.
Persaud, who has been at the helm of Guyana's dominance of the sport for over a decade, is still recovering from his illness.
Meanwhile, GuyanaNRA Hon Secretary Ryan Sampson added that while the team were able to secure their airfare through their BBQ fundraiser, they were still seeking corporate assistance to offset the accommodation and entrance fees.
He stated that letters were sent out, but responses have been slow, the GuyanaNRA receiving a mixture of positive and negative replies. "The national team is, therefore, appealing to corporate Guyana to assist us to once again fly the Golden Arrowhead with pride at the Caribbean level."
Guyana has been the most dominant nation in short- and long-range shooting among its Caribbean rivals, with its marksmen making up more than half of the West Indies team at international events.