– suffer 23-19 loss to USA Panthers
By Akeem Greene
Guyana's National Rugby Team, 'Green Machine', bidding to return to Rugby America's North (RAN) supremacy, suffered a heart-rending loss to USA Panthers on Saturday at the National Park Rugby Field.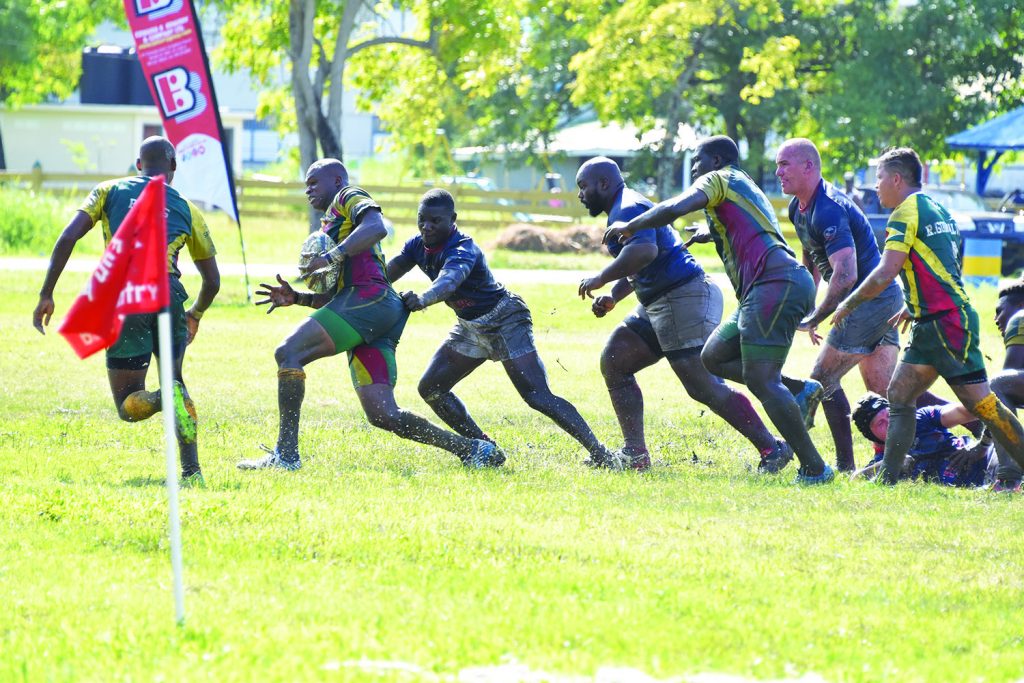 It was "so close but yet so far away" for the local ruggers in a game which had varied performance in both halves, causing the final score to read 23-19 in favour of the visitors, who had lost to Guyana 3—27 in a dramatic match in 2014.
Guyana found it hard going from the onset, with the soggy conditions only adding more to their woes. They failed to bury any chances in the first half, and this ultimately caused them the match, much to the disappointment of the sizable audience, which included Director of Sport Christopher Jones and Public Infrastructure Minister David Patterson.
In the 19th minute, Zach Miller gave the Panthers their first three points; and 10 minutes later, Captain Hein Erasmus scored a try, giving his side a clear 8-point lead. Miller missed the conversion, but the Panthers were up and running again when Wayne Chermely scored a try in the 35 minute. Miller again was guilty of missing the conversion, but the visitors went in at half-time the better team with the score 13-0.
Some tactical changes saw a rejuvenated Green Machine keep a closer backline and begin having a regular presence in the 22-yard area. Though they were looking the more dominant side, Miller again missed the mark, offered in a penalty in the 54th.
Time was running out for the home side to make an impact, and their fortunes came in the form of the burly winner Avery Corbin scoring a try in the 64th, followed by Allen Crawford's conversion. The game was now well and truly on.
Jordon Gunderson gave the US response with a try in the 73rd minute, followed by Miller converting in taking it now to 23-7.
From then the Guyanese rallied in a desperate effort to salvage some pride. Late substitute Osie McKenzie produced a daring half-field run to score a sensational try in the 77th minute, but Lancelot Adonis unfortunately missed the conversion. The heat was on, and McKenzie again made the difference with another bullet-like sprint down the centre in the 80th minute, sinking another try, which was converted by Godfrey Broomes. With the final looking very interesting, given that Guyana had to maintain ball possession and score a try to win the match, the ball went out of play and the referee sounded the final whistle.
The local ruggers will now shift their attention to the Sevens format as they seek to defend their Caribbean title later this year.