– Hindus urged to dispel disparity among races
Hundreds gathered on Sunday evening as the Hindu Swayamsevak Sangh and Hindu Sevika Samiti (Hindus for Selfless Service – HSS) held its 5th annual National Diya Light up at Rahaman's Park, Georgetown, to usher in the Diwali festival.
This year's lighting up ceremony was held under the theme: "The light from within, dispelling darkness accross Guyana"
A concept which Chief Guest speaker, Professor Suresh Narine, was most appropriate given the significance of Diwali, which is the festival of light. He said that by lighting a national diya, the HSS is paving the way to use its religion, culture and traditions to bring Guyana's patrimony of six peoples together.
He pointed out that the country's natural patrimony is diverse because of its various races but noted this does not come without tremendous issues of divisiveness, violence and disparity.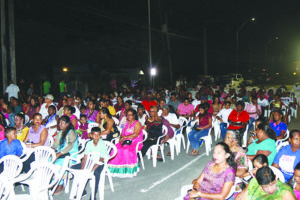 "We took this blessing of patrimony and turned into a destruction…," the professor stated.
On this note, he said Diwali must be seen as a catalyst for reaching out to mend these differences.
"So this is a loud heralding call to Hindus to bring solutions to these problems… Use the message of Diwali as part of the solution to those problems," Narine stated
Another scourge he said that needs to be wiped out from the Guyanese society is the heinous crimes against women and children. Hinduism is premised on idolising goddesses (deities) for their strength and prowess but according to Narine, in the same communities where they are worshipped women are being abused.
"Diwali must be also about dispelling those kinds of ignorances or no amounts of diyas that we light is going to be enough to dispel the darkness and that scourge [of domestic violence] from society… This is a period when Maha Lakshmi – the supreme female form of Hinduism – is worshiped and that must mean something to us… It must mean that our women folk must be enabled to be as successful as our men and as Hindus, this is an important [message] I want to leave you with," he asserted.
Narine went onto point out that despite living in daunting times, Guyana is a beautiful country and Hindus have a lot to offer. This, he said, has started with the lighting of the 'national diya'.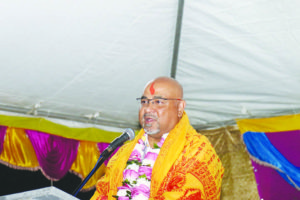 "You're talking about dispelling ignorance nationally and therefore, whilst you're saying that there are darkness' we must dispel in our country, you're also saying we bring solutions to our country. We are going to be counted as Hindus bring solutions of intellect, solutions of love, solutions of peace, solutions of grace…," he stated.
Reminding that Diwali is the beginning of a new year in the Hindu calendar, Professor Narine urged persons gathered to make a resolution and take note of their responsibility in guiding Guyana forward in harmony with the other races that makes up the patrimony of the country.
On this note, instead of lighting up one diya as traditionally done, the HSS in keeping with its theme lit six diyas to represent harmonising the country's peoples. Additionally, the organisation also used 1000 diyas to create the Golden Arrowhead.
Speaking on the significance of this, HSS Member and Indian Rights Activist Ravi Dev posited that Hinduism in Guyana must be depictable of the current circumstances. He said that intension is to let thousand diyas light up the darkness in not only the lives of Hindus but also the country and all of its people.
"The gods have been invoked to bless the diyas and bless this country… If Guyana is to go forward then none of its six people must be left behind," he stated.
In a fifth consecutive year, patrons were mesmerised by this year's 'National Diya'.
Diwali celebrates victory over evil or darkness and the coming of a new year. The light refers to following a path of virtue such that our thoughts are always pure in heart, and the darkness refers to negative thoughts which bring about hurts and sorrow.