England v West Indies Test Series review — Part 1
By Brandon Corlette
No fans, no sight-seeing; for the players, it was all cricket, living in a bio-sceure environment. This series will always have a place in our hearts. It marked the return of international cricket during the deadly COVID-19 pandemic, and both teams showed solidarity with the Black Lives Matter movement.
This was certainly a memorable series for cricket, but most of the West Indies players, especially those in the 15-man squad, would reflect on this series as a disappointment.
In the first Test match, Jason Holder and Shannon Gabriel scripted a remarkable win for the West Indies, but for the remaining two matches, there seemingly was no oil for the rust on some of the players.
Scoring a century was foreign language to the West Indies batsmen. Across six innings, Jermaine Blackwood was the lone man from the Caribbean to surpass 200 runs, but he still failed to make that important conversion to three figures.
In this series review for the West Indies batsmen, the performances of the batting group are assessed.
Jermaine Blackwood
Blackwood came into the series with runs under his belt, after showing his class at the Regional 4-Day tournament, where he scored the most runs.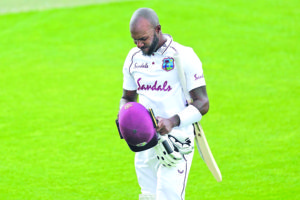 He also had a good record against England, and to an extent, he maintained that record, but fell short of that century he was looking for.
In a series in which West Indies deserve little credit for being defeated 2-1, Blackwood had the highest grade of 6/10. He finished with 211 runs at an average of 35.16, with two half-centuries, including a match-winning 95.
There was a surrounding noise that Blackwood had changed his approach to a more cautious one, but he has shown, with some of the dismissals, that he still has that aggressive approach in his batting; but he is improving.
Shamarh Brooks
For most of the series, Brooks looked a composed and organised Test batsman, but he was also infected with the "not converting starts" sickness.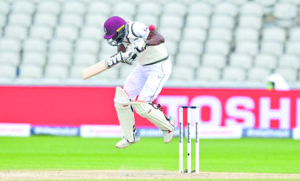 Brooks has gained a 5/10 grade in this review, after he scored 195 runs at 32.50, which included two half-centuries. Brooks looked a confident front-foot player, but his two dismissals: when he was caught behind via an inside-edge, suggested some flaws in his batting.
Kraigg Brathwaite
Brathwaite entered this series under fire, since his form was patchy at the Test level. To an extent, he fought hard early in the series and scored some half-centuries, but his performances in the end were simply poor. He is the number one opener in the Caribbean in terms of experience at the Test level and composure, but his overall record speaks otherwise.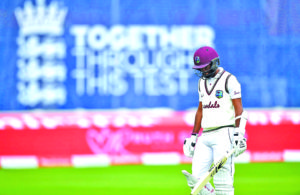 In this series, Brathwaite scored 176 runs at an average of 29.33. In this series review, he has been given a grade of 4/10.
Roston Chase
Chase won the West Indies' Player of the Series award after he took 10 wickets in the series and scored 157 runs. As a batsman, Chase would have wanted more runs; his grade is 4/10 in the batting department, while his bowling grade sits at 6/10.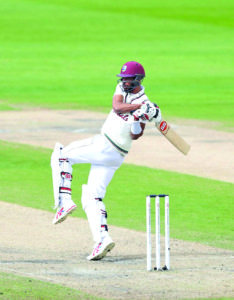 Chase took a five-wicket haul in England, which does not happen every day; and he chipped in with wickets throughout the series, having the upper hand on Rory Burns, his buddy. In the batting area, Chase averaged a poor 26.16 and scored one half-century. He looked solid at times, but that was not enough.
Shai Hope
Hope was hopeless in the series. After six innings, Hope had scored only 105 runs at a poor average of 17.50, which is simply unacceptable from a player of such class.
The right-hander showed that Test cricket is of the highest level, and the other formats are each at a different level. Hope has been poor throughout his Test career since his magic at Headingly in 2017.
That is history, and he needs to progress in his Test career. As one of the highest-ranked ODI batsmen, Hope will have to examine his batting in the longer format. Perhaps he would want to play more first-class cricket and make adjustments in his batting.
A grade of 2/10 does not adequately capture how poor Hope's series was.
John Campbell
His technique looked out-of-sorts, and he lacked the composure of an opening batsman. After six innings, John Campbell could produce only 84 runs, at an average of 16.80. Does this signal the end of Campbell's career in Test cricket?
Campbell played some sweet shots in some of the innings, but his strength of survival was lacking at the highest level. Campbell's back and across movement was not there, and his struggles handed him a grade of 1/10.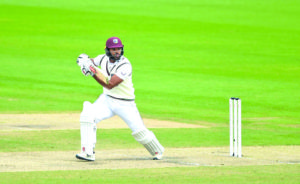 Shane Dowrich
After the first Test match, Shane Dowrich felt he had slain all the demons from his previous tour to England in 2017. But for the remaining two matches, the short-ball tactic worked against Dowrich, and it perhaps affected his batting and keeping for those remaining matches.
Dowrich scored 126 runs in six innings, at an average of 21, which included one half-century. For Dowrich, his performances early in the series handed him the grade of 4/10.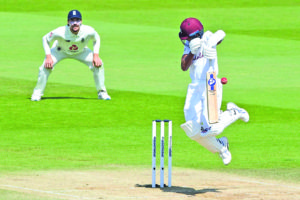 In the second part of the Test series review, the bowlers will be examined, and some of the other options in the reserves would be examined.