…pledges to deepen cultural ties with Guyana
President David Granger on Wednesday accepted a letter of credence from Ebu Jones at the Ministry of the Presidency, accrediting him as the new Surinamese Ambassador to Guyana.
With the appointment of the new Ambassador, both Guyana and Suriname are seeking to improve their bilateral relationship through initiatives for sustainable development.
In the presence of Foreign Affairs Minister, Dr Karen Cummings and Director-General of the Foreign Affairs Ministry, Audrey Jardine-Waddell, Ambassador Jones posited that his country is looking at deepening cultural ties with Guyana.
According to him, both countries have displayed mutual respect and understanding for each other since the establishment of their bilateral relationship in 1975, which has witnessed continuous collaboration in a number of sectors, including agriculture, fisheries, forestry and health. Going forward, Suriname is also seeking to boost trading operations with Guyana with the prospects of other collaborations.
"The Government of Suriname believes that the main focus and coop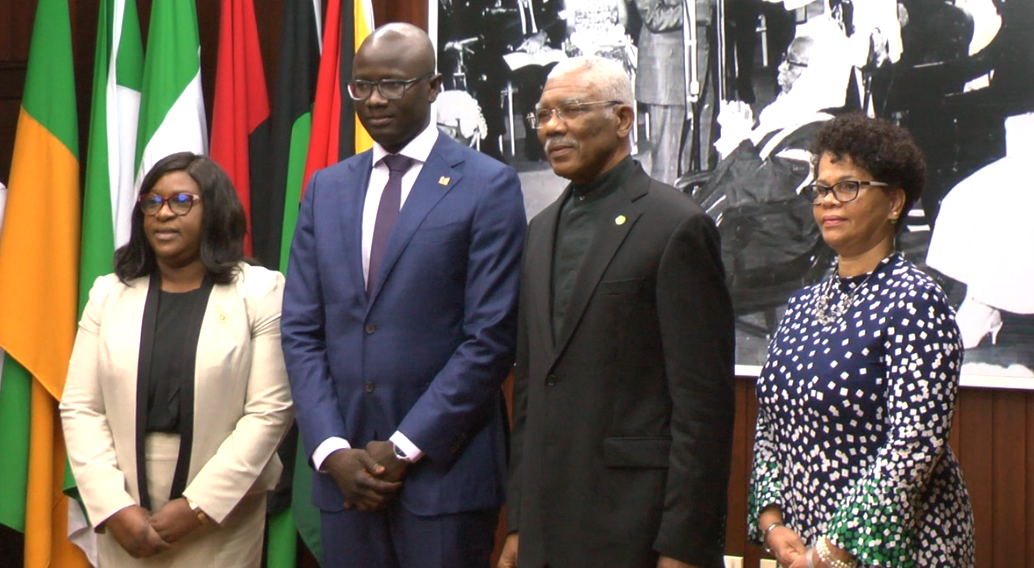 eration should be placed on achieving sustainability and in the pursuit of the development of country and people. It is therefore important and necessary that an atmosphere of peace, togetherness and friendship is being sustained. Emphasis should be placed on what binds us rather than what divides us," the newly accredited Ambassador related.
He added, "There is even more potential for collaboration in the sustainable use of our natural resources as well as exploring environmental tourism and agriculture opportunities both countries have to offer. Suriname also looks forward towards deepening the cultural relationship and intensifying economic trade activities."
President David Granger acknowledged his letter of credence, adding that the main focus will surround regional peace. This includes the elimination of illegal migration and money laundering among other issues which are seen as threats.
"Guyana is committed towards ensuring that the South American continent remains a zone of peace. Peace in our region could be endangered by transnational threats such as trafficking of illegal weapons, narcotics and people; illegal migration; money laundering, environmental hazards and territorial controversies," the president said.
The idea of eradicating these issues were welcomed by both countries, who saw the appointment as an opportunity to combat difficult challenges faced in the past. As was mentioned, there is a large count of persons from the Guyanese Diaspora, who have been residing and contributing economically to Suriname.
"Guyana looks forward to working with Suriname within the ambit of the Caribbean Community and the Guyana Suriname Corporation Council, to continue to improve trade, to intensify cultural, economic, environmental and social cooperation to combat transnational threats."
The new Ambassador had previously held the position of Chargé d'Affaires at the Embassy of the Republic of Suriname in the Kingdom of The Netherlands. Next year, the countries will celebrate 45 years since the establishment of bilateral ties.