In keeping with the Guyana Civil Aviation Authority (GCCA) regulations, the Eugene F Correia International Airport (EFCIA) on Tuesday conducted an onsite drill of an airplane accident simulation which included many casualties. It is required that airports conduct such exercises every two years.
Tuesday's Mass Casualty Incident Management (MCIM) exercise was based on an ATR-size aircraft. The Davis Memorial Hospital, St Joseph Mercy Hospital, Woodlands Hospital, Georgetown Public Hospital and the Georgetown Medical Centre were all involved in the drill, which saw an emergency response situation to the crisis. The response team included the Guyana Fire Service and Police Force.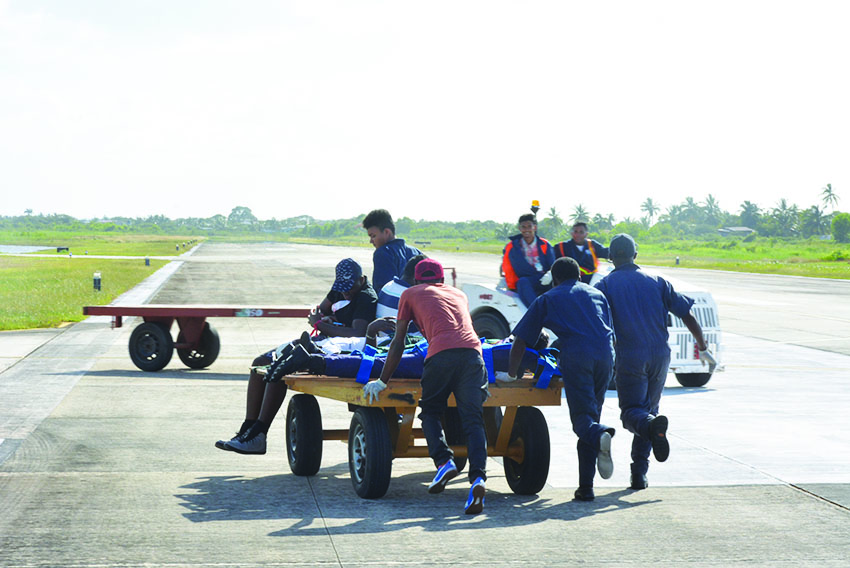 In the simulation which occurred around 15:15h, an aircraft crashed at Ogle with 21 people on board. Information which trickled in indicated that the crash followed a loud explosion, which was later determined as gunshots. Information revealed later in the exercise a lone gunman was responsible for about five deaths, before turning the gun on himself. There were multiple casualties from the crash as well. The simulated exercise later showed the swift response to the emergency security situation by Police. Additionally, Fire Service ranks responded to information that there was a possible bomb explosion.
At the site, there was a medical triage system to assist the injured while fatalities were later carried away. Those affected were taken to the medical response area for further attention. Director of Civil Aviation Safety Regulation at GCCA, Rex Hamzar was on site to observe the exercise to determine whether or not the Airport followed the stipulations of the emergency evacuation plan. He explained that findings and recommendations on improvements would be communicated to the company managing the facility, Ogle Airport Inc (OAI). He noted that while the communication set-up had some hiccups, the emergency response to the crisis was good.
Meanwhile, Lieutenant Jack McDovern of the Fredericksburg Virginia Fire Department, who led an observation team, rated the exercise as a success, noting the quick response of the Police and Fire Service. He explained that any findings would be given to the Airport. Mc Govern is a Certified Aircraft Rescue Firefighting Instructor, a Certified Chief Fire Officer, an Instructor for Advanced Incident Management, and Firefighting and Site Safety Inspection Consultant. Nurse Marcian Gravesande of Mercy Hospital served as Medical Coordinator for the exercise. Public Communications Consultant at the Airport, Kit Nascimento, facilitated media coverage at the event, explaining that the same would occur if a crisis situation would arise.