By Lakhram Bhagirat
The global coronavirus (COVID-19) pandemic has changed the way the world operates. People are now forced to slow down and embrace new methods of getting things done. Among those forced to adopt new methods are teachers and students.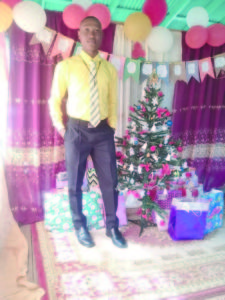 Online learning has been in existence for a number of years, but it is not something that many have embraced. For many parents, teachers, and students, there is a lot about the classroom that cannot be replicated in an online session.
Teachers have long gauged their students' grasp of a topic by their very reactions or simply the looks on their faces. However, with over 15 faces cramped on a computer monitor, it makes teaching less relatable and diminishes the teacher's ability to gauge their student's grasp of a subject.
What makes it worst is that in Guyana, online learning is just not feasible for many reasons. Not every student can afford an e-learning device and Internet access. The woes of e-learning in Guyana are further compounded by the unreliability of the Guyana Power and Light Company.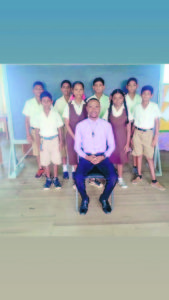 Nevertheless, the teachers have shown resilience and have continued to engage their students during this pandemic.
One such teacher is young Charles Conrad Grenardo — the Grades Five and Six teacher at Success Primary School on Leguan Island, Region Three (Essequibo Islands-West Demerara).
Grenardo tells the Sunday Times that when he heard that COVID-19 would cause schools to be closed before the term ended, he was first saddened thinking about how much of a setback it would be for his students. He was, at the time, preparing eight students to sit the National Grade Six Assessment (NGSA), which was initially scheduled for April 8 and 9, but owing to the COVID-19 pandemic and new guidelines for physical distancing by the National COVID-19 Task Force (NCTF), the exams were moved to July 1 and 2.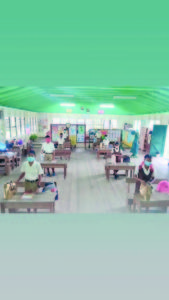 "I was deeply saddened when I heard that all schools would be closed for three weeks prior to its scheduled date due to the pandemic. Eventually, I went to a private residence to keep classes for my Grade Six pupils only. I later found out that this was prohibited by the Ministry of Education, so I had to stop," he related.
Cognisant of the need to keep his students safe but also the challenges of e-learning on an island with unreliable Internet connectivity, Grenardo, nevertheless, created a WhatsApp Group for his pupils and worked with them throughout the day. He embraced this new frontier as the means of preparing his students, but he was also worried about the setback for students without access to WhatsApp.
"The two main challenges I was faced with was the fact that I couldn't have communicated to all of my pupils via the WhatsApp group and the Wi-Fi signal on the island was poor sometimes. So, when I heard that the primary schools would reopen for a period of over two weeks for the Grade Six pupils I was elated," he related.
For the 25-year-old, teaching is his passion and being in front of the classroom gives him life. So, when he heard that school was reopening, he took every step to ensure that his environment was safe enough for his students and picked up from where they left off. He noted that the workload was not heavy, since he began preparing his students since they were in Grade Five: He encouraged their parents to purchase workbooks with past NGSA papers so that they could get an idea of how the examination is set up. He worked with his students on those past papers in addition to teaching them what the school's curriculum outlined.
When his students graduated to Grade Six, Grenardo held a meeting with their parents where he proposed a 30-minute early start in the mornings as well as for the afternoon session. The extra hour was used to work on the past papers among other areas the students needed to work on.
"I'm currently teaching in a school which has a very small population so myself along with the other teachers are teaching two classes each. I must commend the parents for giving me their fullest cooperation and support during the quarantine period. There are currently eight pupils in the Grade Six at my school, but the same effort is given to each pupil. I really enjoyed the last two weeks with my pupils where I could have interacted with them face to face as we revised for NGSA," he said.
Grenardo himself was educated on the island at the Maryville Primary School and then the Leguan Secondary, where he completed the Caribbean Secondary Education Certificate (CSEC) examinations and gained passes in 10 subjects.
"Teaching has always been my passion. I remember vividly coming home in the afternoons and hitting the walls of my house pretending as though I was the teacher and the walls were the pupils."