— pleading with Central Government for help
cores of rice farmers living within the areas of Lima, Devonshire Castle, West Bury and Evergreen in Region Two (Pomeroon-Supenaam) are incurring additional expenses to pump excessive water off their lands.
Most of the front lands in the Lima and Hampton Court areas are reportedly inundated and farmers have already sowed their lands.
According to the affected residents, they are very fearful of what the future holds; many are alleging that there has been no support offered from the Guyana Rice Development Board (GRDB) or the National Drainage and Irrigation Authority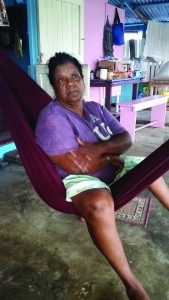 (NDIA).
The farmers explained that the pumps and sluices currently in operation are not sufficient to effectively drain the lands and are therefore lobbying for assistance from Central Government.
Imram Bacchus, a rice farmer from Lima Backdam who has cultivated close to 20 acres and who has three-week-old seedlings planted, explained that he was forced to pump water off his field in an effort to save his crop. This, he said, amounts to $5000 per hour to pump water.
In addition, Bacchus noted that his tractor engine is also under pressure due to the long hours of pumping and as such, is forced to spend more money on maintenance.
"We have to pump; fuel using, tractor engine running, money spending, rain continue to fall; if it don't ease up then all our crop will be lost, this is real crisis," he explained.
Another large-scale farmer, Lakeram Ramdial from Windsor Castle related that close to 100 acres of rice lands are under threat for him. He pointed out that the koker in the Lima area is not working effectively to drain water.
Another rice farmer, Parmanand Chandrapaul, from Hampton Court explained that he too has been forced to pump water from his lands, as the water level keeps rising. He is also seeking assistance from Central Government for fuel, fertilisers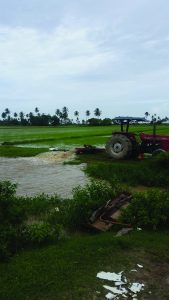 or seed paddy.
Meanwhile in the residential area of Windsor Castle, one poultry farmer, Prampatie Persaud, said she lost dozens of chickens, ducks and eggs to the flooding. When this newspaper visited Persaud her land was under water, which she claims has been the case for over a week.
This publication was however informed that pumps in the area are operational. During the visit, Region Two Chairman Devanand Ramdatt made a preliminary assessment of the situation and assured that he would continue to monitor the situation.
Ramdatt noted that he has already written to Agriculture Minister Noel Holder, outlining the challenges rice farmers and residents are facing.
Region Two has been experiencing frequent rainsl over the past week.
Meanwhile, rice farmers are also calling for the upgrading of several farm-to-market roads. Currently several access dams leading to rice lands in areas such as Lima, Aberdeen, Golden Fleece, Devonshire Castle and Hampton Court are in deplorable conditions. This is further contributing to more challenges for rice farmers within the Region. Farmers are therefore calling on the Region Two Administration, along with the Water Users Association (WUA) to assist in upgrading and maintenance of the Dams thus easing some of the burdens in the rice industry. (Indrawattie Natram)