– promises GFF President Wayne Forde
When the 'Bounceback Football' tournament was concluded and the afterthoughts were shared, football enthusiasts were left with much to be figured out.
Is this the new 'Year-End Extravaganza?' Will this collaboration continue? And especially when Kashif Muhammad expressed that they're hoping to 'take back' the 1st of January as a football date, persons wondered: Are they going to take over now? What happens to that tournament that was hosted last year? Will there be some sort of rivalry for the lucrative date?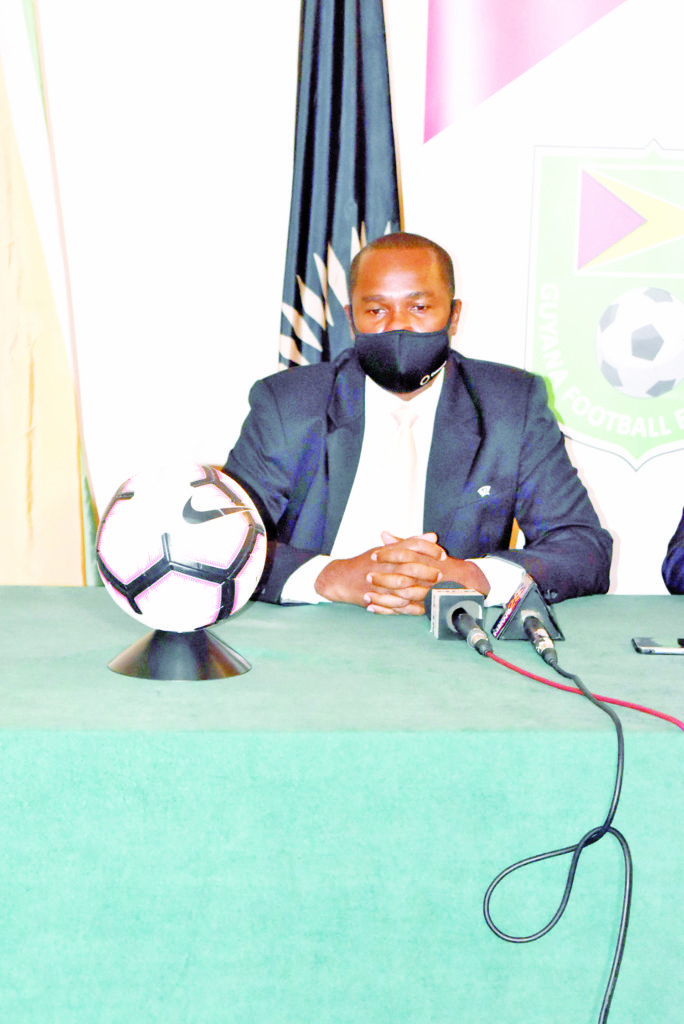 However, swirling questions have been dissipated by Guyana Football Federation (GFF) President Wayne Forde, who undertook to bring some clarity to the situation this past week.
In an engagement on the Sean Devers Sports Watch programme on Kaieteur Radio, Forde confirmed that the GFF's 'Super 16' tournament would be back this year-end.
"Many of those discussions are in their early stages, but I can say to you that it is going to be the GFF Super 16 Cup," Wayne Forde has declared.
Continuing, he said, "Well, I think we have some great ideas. The GFF 'Super 16 Cup' is going to be boosted up for this year. We are having serious discussions with potential partners, and we feel very excited about what we're going to be able to deliver."
While expressing that there are a number of aspects that the Federation hopes to improve upon, Forde hinted at the possibility of televising the event as had obtained with the Bounceback tournament.
Additionally, he revealed that organisation of the tournament would spawn a number of partnerships.
"Now that we have seen that we have the talent to televise a game, then that has formed part of the planning and discussion," he disclosed. "So, I would say that in maybe a few weeks, or maybe a few months, we will be making a formal announcement on 'the Year-End' tournament, but I can say to the general public that it's going to be the GFF Super 16 Cup, with some other partnerships to really deliver the quality of competition that we know the general public has been longing for," he disclosed.
The Kashif and Shanghai Organisation would definitely be involved in those collaborations. Revelation of this fact would quell a lot of fears of history repeating itself. For now, it's safe to say gone are the days when two football organisers 'battled for the right to use January 1'.
GFF President Wayne Forde has noted, "Part of those discussions are with the Ministry of Culture, Youth and Sport; the K&S (Kashif and Shanghai) Organisation, one other partner…and we're getting ready to engage some other corporate entities to put together a broad partnership."
Based on the utterances of the Football Boss, there is no intention to stir up any old grievance. In fact, according to Forde, he is focused on the unifying force that football has proven to be.
"My ideal philosophy around this 'Year-End' football is one wherein we can bring the entire fraternity and all of our partners under one big camp and deliver something we can all be proud of. Football is a force that unites, and no one that wants to lead football should try to perpetuate bitterness and tension and rivalry, and some of the experiences that have been 'not so good' for the image of the sport," he posited.
However, he emphasised that the GFF has a mandate that includes the sanctioning and organisation of football in Guyana.
"I believe there appears to be a willingness on all sides to really come together to do something well. The GFF is the sole authority for football in Guyana. We regulate and dictate and organise the annual calendar, and we're always willing to engage our partners and our stakeholders so that the best possible football experience can be had for ozur nation," Forde reminded. (Jemima Holmes)