The Chief Executive Officer (CEO) of the National Agricultural Research and Extension Institute (NAREI), Dr Oudho Homenauth recently revealed that two other structures have been incorporated for the mangrove restoration project in Region Two (Pomeroon-Supenaam), which will be positioned at Land of Plenty/Three Friends and Reliance.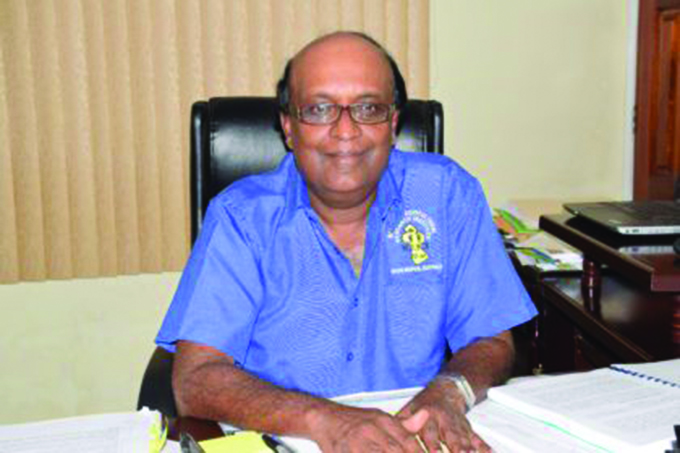 The CEO spoke to the Department of Public Information (DPI) and revealed that the decision was based on research executed on the use of the spartina grass, particularly given advanced support to the mangrove restoration project it received.
"Studies would have shown that once you have these structures…They can lead to restoration exercises like we would have seen currently in Lima on the Essequibo Coast where the structure that we have there, over the last year or two, would have shown that mangroves, you can actually not necessarily plant them but you get natural regeneration," Dr Homenauth elucidated.
While recognising that spartina grass was not native, he pointed out that it was suitable for such environments. Spartina, commonly known as cordgrass or cord-grass, is a genus of plants in the grass family, frequently found in coastal salt marshes. It is renowned for its capability to act as an environmental engineer.
This plant grows out into the water at the seaward edge of a salt marsh, and accumulates sediment thereby enabling other habitat-engineering species to settle. The accumulation of sediment and other substrate-building species gradually build up the level of the land at the seaward edge, and other, higher-marsh species move onto the new land.
According to Dr Homenauth, the vision proposed earlier this year by the Agriculture Ministry will be recognised within the next quarter (October).
Agriculture Minister Noel Holder in his 2017 budget speech had applauded the performance of the mangrove management/restoration project of 2016, while recognising that it has contributed tremendously to the overall performance of the agriculture sector, and was optimistic as to the continuation in 2017.
Over $40 million was allotted towards the management and restoration of mangroves and NAREI intends to use the funds for planting, monitoring and creating structures.