Apostle Balgobin Ragnauth putted his way to the top this past Saturday, prevailing over his opponents to emerge as champion of the inaugural A&R Jiwanram Printery Inc. Open Golf Tournament.
Golf action continues at the Lusignan Greens as the fraternity prepares to bring the curtains down on an overly successful 2018 year for the sport. Contesting in the 0-9 handicaps Flight, 1st and 2nd places went to the experienced pair of Kassim Khan, 73/8, and Lusignan Club President Aleem Hussain, 75/9, with other seasoned pros in Mike Mangal (77/9) and Patrick Prashad (79/9) completing the quartet.
In the 10 – 18 Flight, Parmanand 'Max' Persaud finished with 69/12 to clinch the first place spot, while 2nd place went to women's pro Shanella Webster, 71/15.
Former LGC President Hilbert Shields was among the group winners, coming in third with 72/16, leaving the likes of Aasrodeen Shaw, 72/16, and Bholawram Deo, 73/18, to settle for 3rd and 4th respectively.
Lastly, the 19 – 28 Flight was owned by Ragnauth, whose net 66/23 saw him beat off the likes of Maurice Solomon, 72/24, second; rookie Videsh Persaud, 73/28, third; Miguel Oviedo, 75/26, fourth; and MACORP CEO Guillermo Escarraga, 76/22.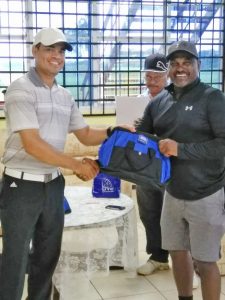 As Ragnauth walked away overall tournament champion, Overall Best Gross was won by 'Max' Persaud. In the absence of a representative from A&R Printery, Mr Escarraga assisted in the distribution of prizes as Hussain, speaking on the behalf of CEO and local race car driver Paul Jiwanram, thanked the golfers and indicated that A&R, who has been in the printing business for a while, has also been a strong supporter of the Lusignan Golf Club.
President Hussain added that in addition to having pledged continuing support of the LGC, CEO Jiwanram, who is very keen on golf, even made a proposal to build a miniature golf course on land he has available out of Georgetown.
Meanwhile, President Hussain did the sponsors proud by being in the winners' row for the day. (Clifton Ross)