Thieves carted off some $2 million in addition to other valuables when they broke and entered a home at Number 71 Village Corentyne, Region Six (East Berbice/Corentyne) on Tuesday evening.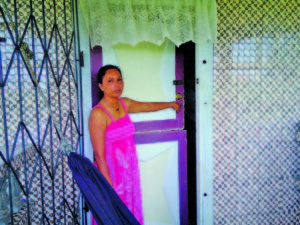 No one was at home at the time of the breakage. Dershanie Devi Thakoordin of Number 71 Village Corentyne, who works as a security officer with the Corriverton Mayor and Town Council, told this publication that she left home at about 19:39h, and returned shortly after 21:00h. She said that as she entered the yard, she noticed that her front door had been wrenched open. The 38-year-old woman, who lives with her 15-year-old son, revealed that the perpetrators had already left when she returned home.
"The gate was locked, and I opened it and come in, and I see the door open. So, I go to turn back and tell my son that he leave the door open, and then I look inside and see straight in the middle room, which is his room, and everything pull down on the ground," the woman recalled.
She said that upon seeing what had happened, she raised an alarm and neighbours rushed to her aid. She said that all the bedrooms were ransacked. According to her, some $400,000 worth in jewellery, $2M local currency, US$2100 and items from the refrigerator were stolen.
Among the items of jewellery were six pairs of gold bangles, two slave bands, ear rings, 10 gold fingers rings, two gold chains and a gold band.
According to Thakoordin, she has a sister and a son living overseas, and they sent over $2M over the past four months for her to purchase materials to repair her father's workshop, which is located at Number 65 Village. She said that they also sent money for her to repair her own house.
She explained that on Tuesday she contacted the contractor to get an estimate to repair the roof of her house.
"I went yesterday (Monday) to order the wood, but I did not get to reach the man dem…so is so come the money leff," she said.
Meanwhile, footprints were seen on the concrete behind the house.
Police arrived shortly after the alarm was raised. An investigation has since been launched.