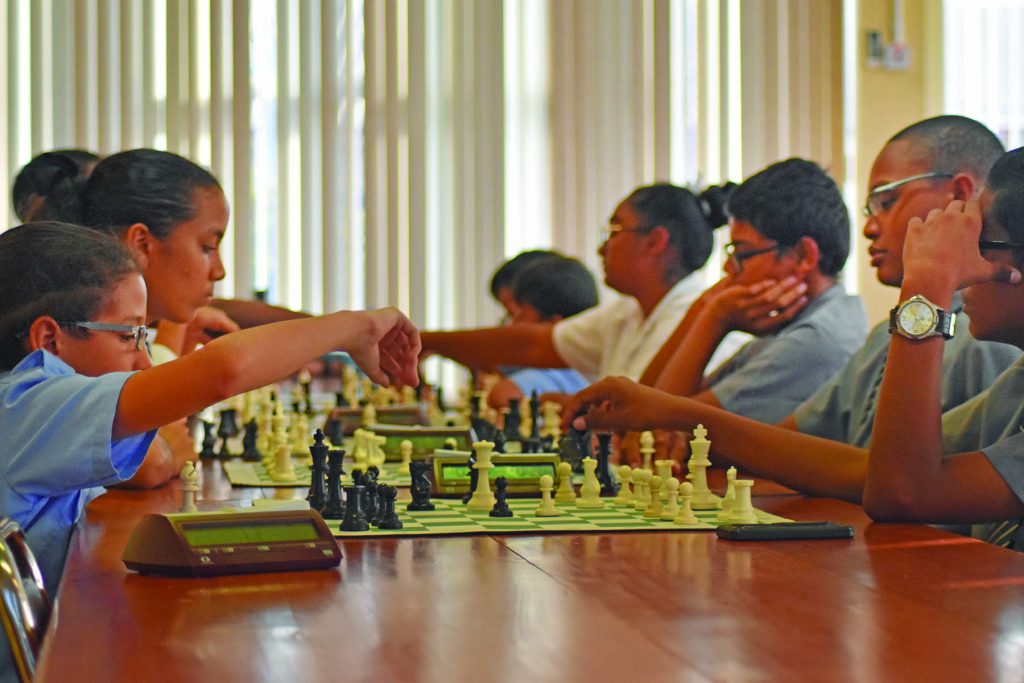 By Jemima Holmes
Stories are often told of young students who become so attached to their female teachers that once in a blue moon instead of saying 'Teacher…' or 'Miss…' the word 'mommy' comes out. These instances are often a testament to how close teacher and student can be.
What most people don't realise is that the same goes for male teachers or in the world of sport, coaches.
Whenever we sit down to catch a game of cricket or football or even indulge in a riveting game of chess, what we see are players who have done tedious work to perfect their craft. Meanwhile, behind the scenes, there are coaches who have worked equally hard to ensure that their players are at competition standard. The long practice hours that are put in by player and coach can bear the fruit of a champion, but the amount of time spent together can also pave the way for a bond akin to that of father and child.
For one Chess Coach, he was introduced into the world of dealing with children long before he had any biological children of his own. Over the years, the knowledge he acquired has given him a head start on fatherhood. Although he may not be the perfect father, this Coach has been blazing a trail at home and in the world of chess.
Whenever you see Guyana's top FIDE Chess Coach, Wendell Meusa, you most likely are greeted with a smile and some plan on how he can attract more young players to the sport. Always equipped with a set or two of chess pieces, Meusa has made it his duty to introduce the next generation of players to the game. What others may see is just an instructor, but to students, they see a father- figure and role model, in whose shoes they would like to walk someday.
While coaching came naturally to Meusa after being in the forefront of chess for years, fatherhood greeted him with mixed emotions and uncertainty of what to expect.
In 2011, Meusa experienced the greatest hurt a parent could feel, losing a seven- month-old son. For this reason, when his first daughter entered the world on February 20, 2016, his joy was marred by uncertainty. But as her life unfolded, and as she was joined by a brother in January 22, 2017, Wendell felt for the first time what many describe as 'the greatest love'.
"Being a father means the world to me. I have two intelligent bundles of joy and I pray every day that God guides me to become the ideal father for them," a smiling Meusa said about his parenting journey thus far.
Fatherhood, however, does not come without sacrifices and having to put others' needs before yours. This is a lesson that Meusa has learnt over his years of being a father and has grown comfortable with the idea of selflessness.
"The most important of all the lessons I've learnt through fatherhood is how disciplined and hardworking a man has to be in order to meet the needs and wants of his family," Meusa explained.
Similarly to being there and assisting when his own children take their first steps, Meusa is the one who urges on young players to take their first plunge into chess.
"I enjoy teaching beginners the history of chess, the difference with chess when compared to physical sports and I have a story I made up when teaching children about chess pieces," Meusa shared about his introductory chess lessons.
His ascension to Barbados Junior Chess Champion (2003 and 2005) was among his first major achievements in chess. Thereafter, the trailblazer went on to cop nine Senior Chess Championships, eight of which came consecutively from 2011- 2018. Wendell later attained the titles National Chess Coach and Team Manager for his work with the Guyana National Chess team in 2014 and 2016.
Currently, the Chess Coach has over 126 students in Georgetown alone, most of whom are part of the Wendell Meusa Chess Foundation (WMCF). His sessions are often times upbeat and filled with clever questions from the young, inquisitive bunch.
"I have been coaching from 2005 with Barbadian FIDE International Master (IM) Terry Farley for the Barbados Primary & Secondary School Association. I have lost count of how many children I have coached, but I can say in Guyana alone I would estimate over 500 children," Meusa stated, reflecting on his years of work.
Of course, the work he puts in comes with its rewards. Highlighting his work with Bajan IM Orlando Husbands and FM Yu Tien Poon in the earlier years of their chess career and even work with Cecil Cox, Ron Motilall, Su Hai Feng and Anthony Drayton as some of his best moments, Meusa cites Guyana's debut at the Chess Olympiad as one of his most memorable moments.
"Working with the Olympiad Team in Norway 2014 as Coach was to me my biggest accomplish because the team did well on our first time in strange waters," he explained.
As a father, Meusa is all too familiar with what parents expect of their children. As such, he makes it his duty to remind the students under his care that it is important to respect the sacrifices made by their parents.
"I always tell my students to respect the sacrifices of their parents and work hard to make them proud," he said.
When it comes to favourites, Meusa said he doesn't have any at home nor in the classroom. Citing that it is important to love and give equal amounts of attention to his children, biological or not, he declared:
"I don't have any favourites; I love both of my children unconditionally. I do my best to show them both in any way possible."
While seeing students/players succeed is something that any coach hopes for, Meusa gets his rewards when his students find new ways to excel at their sport, which is a must for the game of chess.
"It is always a great feeling to see one of my students excel, but my greatest feeling comes mostly from our training sessions discovering new ideas, strategies and having jokes/laughter," Meusa said.